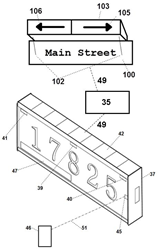 San Diego, CA (PRWEB) June 26, 2014
ADVS-Technologies, an inventive company, is pleased to introduce MagicStreetSign™, a series of patent pending intelligent LED illuminated street name and address signs.
MagicStreetSigns™ are aimed at improving the safety of communities and reducing response time of First Responders who are attending emergencies during evening and night hours.
"The patent pending MagicStreetSign™ devices," according to inventor Zack Braunstein, "are interfaced via MagicSignNet™ wireless network to a host computer, comprising a closed-loop, real-time control and visual navigation system. The technology is intended to serve as a solution to shaving lifesaving seconds and possibly even minutes off the response time for First Responders trying to identify the location of a crisis during evening or night hours."
The MagicStreetSign™ system includes sensors connected to the host computer, which provide real-time status of the various routes within a community.
In general, the MagicStreetSign™ devices improve visibility of the street name and the street address signs. In events of emergency, the MagicStreetSign™ system will use color coordinated illumination and blinking effects to provide visual assistance in finding a location in need of help as soon as possible.
"In respect to a community experiencing an emergency," continues Braunstein, "the host computer controls the MagicStreetSign™ devices, and using visual effects, directs First Responders to the quickest available route leading to a location experiencing emergency. Then, upon completion of onsite services, the host computer controls the MagicStreetSign™ devices to visually guide First Responders safely and efficiently away from the community."
The MagicStreetSign™ devices are highly efficient and can use as little as half a watt of energy to produce enough light for the street sign to be seen from hundreds of feet away.
"By improving visibility of street names and street address signs during evening and night hours, and then providing real-time visual navigation during emergencies, the patent pending MagicStreetSigns™," concludes Braunstein, "will make a significant contribution in improving the safety of our communities. The technology will help to reduce the response time in events of emergency."
For any feedback, please visit http://www.advs-technologies.com.
About ADVS-Technologies:
ADVS-Technologies is a young and ambitious company specializing in the development of innovative proprietary technologies, with an extensive portfolio of patented technology in the areas of illumination systems, power distribution systems, pharmacy, store automation, and transport systems. The objective of ADVS-Technologies is to provide effective and efficient environmentally-friendly solutions with the intent of improving quality of services.
For more information, please visit http://www.advs-technologies.com.