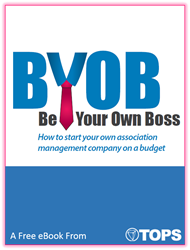 Clearwater, FL (PRWEB) June 25, 2014
TOPS Software, the developer of the industry-leading TOPS Professional Software suite for Condominium and Homeowner's Association Management, announced today the release of their new eBook, "BYOB – Be Your Own Boss in Community Association Management".
In this eBook, successful entrepreneur and CAM industry veteran Jeff Hardy shares his own experience with building a successful association management company, and gives advice on how today's property managers can successfully reproduce the process.
With one in four homes in the United States being located in a community association, and over $65 billion dollars flowing through these associations*, the CAM industry is ripe for small business owners to cash in.
This eBook is intended for existing community association managers who are ready to go into business for themselves, as well as related industry professionals, such as members of the board of directors who are frustrated with the current service their HOA or condo association is receiving and feel they can do it better and would like to make a living at it.
In the eBook, Jeff Hardy shows readers how to start their own CAM management company on a limited budget with limited or no outside funding using DIY bootstrapping techniques.
Topics covered in the eBook include:

Why community association management is a highly desirable industry during an economic downturn due to being largely recession proof.
How to develop and implement a business plan for your new management company on a limited budget.
How to define a unique value proposition to set you apart from your competition.
How to utilize branding and marketing techniques to make your small business look bigger than it actually is.
How to price your services and find new condo association and HOA clients.
How to transition your first client and further grow your business.
To download the eBook, visit http://info.topssoft.com/start-your-own-association-management-company-ebook.
About TOPS Software
TOPS Software helps community association management professionals save time and effort in managing condominiums and homeowners associations. TOPS technology empowers management companies to focus on growing their business and delighting their clients while reducing their labor costs. One management company was able to raise the number of communities in the portfolio of each of their managers from 8 to 12 by implementing TOPS. That's a 50% gain in efficiency! Learn more about TOPS at http://www.topssoft.com.
*based on 2013 statistical review by the Community Associations Institute (CAI)