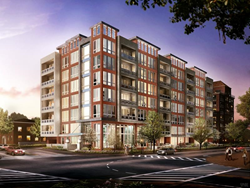 Bethesda, Maryland (PRWEB) June 26, 2014
1788 Holdings and Persimmon Capital Partners today announced the commencement of construction of The Lauren (http://www.thelaurenresidences.com), a 40-unit luxury condominium development located at 4901 Hampden Lane in downtown Bethesda, Maryland.
The Lauren will include 29 estate quality condominium units averaging over 2,500 square feet of living space, 5 for-sale guest/amenity suites and 6 affordable units. The project is expected to deliver in the early spring of 2016. All of the project's 29 premier living units will include nine and ten foot ceilings, custom cabinetry, gas appliances, vented fireplaces, a robust home automation system and best-in-class finishes throughout.
Other notable elements of The Lauren will include direct entry elevators to 70% of the units, an elegant granite façade with 100 to 1,500 square foot terraces incorporated into the living spaces, two graciously appointed entertaining venues (an indoor facility and an outdoor facility on the rooftop) complete with private wine storage for all residents and fully equipped catering kitchens, a dramatic two-story glass and limestone lobby and a suite of "white glove" services for its residents and guests that are unrivalled in the Washington, DC market.
"We challenged our world-class architectural and interior design teams to help us to create a project which would redefine Washington, DC's concept of luxury condominium living such that we could deliver a Best-in-Class development that would rival those found in certain other premier US gateway cities. Based upon the reviews the project has received from prospective clients during its initial marketing, the team did not disappoint," offered the managing principal of 1788 Holdings, Larry Goodwin.
The project architect is Robert M. Swedroe Architects and the interior design is by Akseizer Design Group. James G. Davis Construction (DAVIS) is the general contractor for the project and the debt financing has been provided by Apollo Commercial Real Estate Finance, Inc. (NYSE:ARI), a commercial mortgage REIT managed by an indirect subsidiary of Apollo Global Management, LLC.
Sales and marketing for The Lauren Residences will be managed by TTR Sotheby's International Realty out of its Chevy Chase brokerage office. All sales inquiries should be directed to Dave DeSantis at TTR Sotheby's International Realty (ddesantis(at)ttrsir(dot)com), and all other inquiries should be directed to John Conley at 1788 Holdings (jconley(at)1788holdings(dot)com).
About 1788 Holdings
1788 Holdings is a Washington DC-based real estate investment company with an investment focus in the DC metropolitan region. While the company's capabilities include the acquisition, development and strategic oversight of office, residential, and industrial properties, the 1788 Holdings' team is currently focused upon developing boutique residential properties which redefine the high-end condominium living experience in the greater Washington area. 1788 Holdings is also the developer of The Estate Condominiums at Quarry Springs, a 97 unit, two-phase luxury condominium project located on River Road immediately proximate to the demarcation line between the communities of Bethesda and Potomac, MD.
The Sotheby's International Realty network currently has more than 14,000 sales associates located in approximately 650 offices in 49 countries and territories worldwide. TTR Sotheby's International Realty has been the exclusive affiliate for the Washington, DC metropolitan area since 2006. The firm currently has 250 associates with offices in Georgetown, DC; Downtown, DC; McLean, VA, Alexandria, VA and Chevy Chase, MD. For more information, visit ttrsir.com.