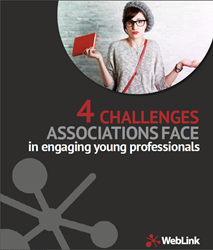 Millennials are truly our workforce's next generation, It's crucial that associations understand how young professionals tick and start communicating with them in a more effective way. - Muller
Indianapolis, IN (PRWEB) July 01, 2014
With millennials comprising 22 percent of the American workforce and counting, it's more important than ever to identify the best way to engage them thoughtfully and effectively.
In "4 Challenges Associations Face In Engaging Young Professionals," DJ Muller, president and founder of WebLink International, reveals four key challenges associations encounter when communicating with millennials. The challenges include:

Millennials already have robust social networks.
Millennials prefer the virtual world.
Millennials need instant gratification.
Millennials are hard to pin down.
As millennials continue to break previous molds in how they communicate and interact, Muller provides tailored strategies to better engage with young professionals who are increasingly mobile, selective and pressed for time.
With more than 20 years' experience in the technology industry, Muller has keen insights on the challenges facing chambers and associations as they navigate member engagement in the 21st century.
"Millennials are truly our workforce's next generation," Muller said. "It's crucial that associations understand how young professionals tick and start communicating with them in a more effective way."
To receive a free copy of the e-book visit: http://info.weblinkinternational.com/young-professionals.
About WebLink International
Founded in 1996, WebLink International is the provider of WebLink Connect, the insightful, innovative and easy-to-use association management software. Backed by dedicated customer support and unparalleled industry expertise, WebLink empowers hundreds of trade and professional associations and more than 500,000 small and medium businesses to help them acquire and retain more customers. WebLink International is headquartered in Indianapolis, Indiana. For the latest, follow @WebLink on Twitter, follow WebLink International on LinkedIn or visit weblinkinternational.com.
About DJ Muller
DJ Muller is president of WebLink International, a position he has held since the company's incorporation in 1996. Muller attended St. Cloud State University in St. Cloud, Minn., majoring in business administration. Muller is a frequent speaker at national, association and technology conferences, chambers of commerce and guest lecturer at colleges and universities.