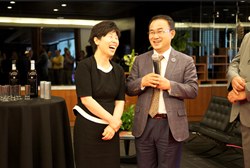 Salt Lake City, Utah (PRWEB) June 26, 2014
MonaVie recently celebrated a milestone at its corporate headquarters in South Jordan, Utah, when they welcomed the company's first-ever Royal Black Diamond distributors from Korea. In a ceremony of pomp and circumstance, Tae Ok Moon and Hyung Wook Choi walked out of their limousine and onto the red carpet adorning the lobby of MonaVie headquarters, where the entire corporate staff waited to greet them.
Responding with traditional Korean bows to the rousing ovation they received, the couple received the official welcome by MonaVie Founder and Vice Chairman Randy Larsen and then expressed their own greetings and greetings from their team back home to all their extended MonaVie family at corporate headquarters. Larsen also reminded those who might have forgotten that MonaVie's motto, "A More Meaningful Life," came from MonaVie's previous General Manager of MonaVie Korea.
There was a tour of the home office and other MonaVie facilities in the area, lunch with company officers and managers, and everybody had a chance to talk about the business, how it had affected their lives and their plans for the future. Hyung Wook and Tae Ok enjoyed meeting the leaders of the company, as personal bonds and respect are a critical element of the strength of South Korean business relationships.
MonaVie does business in and has many successful distributors in several countries globally, but this couple is the first from Korea to achieve the high rank of Royal Black Diamond. Koreans are extremely fond of high quality, efficacious products, but Tae Ok Moon recalls that the early goings weren't always easy, but she and her husband persevered and never stopped believing in their dream with MonaVie.
The honored couple left Utah with lots of pictures, many fond memories, bigger ideas and goals, and reaffirmed belief in MonaVie and its mission. Similarly, the staff at company headquarters now knows first-hand the warmth and strength that exists in the people of South Korea and expect to see many more South Korean leaders rise to the top of MonaVie leadership in the near future.
About MonaVie
Since 2005, MonaVie has developed premium products dedicated to promoting health and wellness worldwide. With distribution in 40 markets, MonaVie addresses four key areas necessary for optimal health—Nutrition, Weight, Energy, and Stress—with products made from the best and rarest ingredients on Earth. The products, in conjunction with MonaVie VIEW Antioxidant Scanner, empower people to live healthier, more meaningful lives. That greater meaning is revealed through our heartfelt commitment to doing good in the world and by helping children and families in need through the MORE Project. Start living A More Meaningful Life today and discover the true, life-changing power of MonaVie. Learn more at http://www.monavie.com, or connect with us on social media.