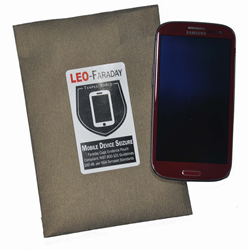 The erase command lurks on the cell phone network, waiting for a half second of connection.
Marion, Iowa (PRWEB) June 25, 2014
Today's Supreme Court ruling leaves officers looking for a way to block "wipe" commands from erasing phone evidence while judges review warrant requests. Special bags from LEO-Faraday give officers NSA-grade shielding, stopping the lurking erase command from reaching the phone.
The Court's new ruling blocks officers from searching a phone without a warrant. That gives the suspect's friends, family, or criminal partners time to send the erase command. Once issued, the wipe command lurks on the cell phone network, waiting for a half-second of connection.
Officers handling the phone need NSA-grade signal blocking because cell phone signals become hundreds of times stronger while driving past a tower. In addition, many phones automatically connect to strong signals from open Wi-Fi networks.
The best practices for seizing cell phones and blocking the wipe commands are in a standard commissioned by the Department of Homeland Security: NIST 800-101. LEO-Faraday seizure kits are the first product to fully comply with this standard, making it easy for officers to place phones inside NSA-grade, 100 dB Faraday cage bags.
LEO-Faraday bags block between 300 to 3000 times more signal than competing products. Phones need this level of protection because of the many cell towers and WiFi hotspots available while the evidence travels to the digital forensics facility.
In addition, LEO-Faraday also offers kits that provide backup power inside the bag. This keeps the phone powered on, protecting evidence and preventing activation of power-on passwords.
The Supreme Court's ruling is found in Riley v. California, Docket No. 13-132.
(For more information, contact Scott Hall at 319-432-7134)