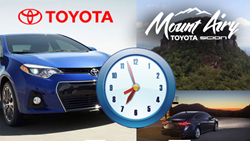 Family Friendly Hours Morning and Night! -- Scott McCorkle, Mount Airy Toyota
Mount Airy, NC (PRWEB) June 26, 2014
"We are pleased to announce longer 'family-friendly' hours in order to serve our customers," says Scott McCorkle, owner of Mt. Airy Toyota Scion. We open at 7 AM and don't close until 8 PM.
Car dealerships are usually busiest on the weekends, according to the United Service Automobile Association. This can create a bottleneck situation in the finance department. Sales personnel also may be juggling several clients. Keeping longer hours during the week allows people to shop after work.
Mt. Airy Toyota Scion has been family-owned and operated for more than 40 years. "Our longer hours will let the whole family be involved in the car purchasing decision," says Nicky York, general manager.
In recent years, Americans have been working longer hours, both men and women. Mt. Airy Toyota wants to cater to working families and make their sales team available. "We hope that being open until 8:00 will allow couples to come together to make the car buying decision," says Nicky York.
According to Autotrader.com, late hours can benefit the customers as well as the dealership: "New-car shoppers can often negotiate strong deals during late hours." Mount Airy Toyota understands how busy their customers can be and being open later creates more opportunity for customers to get a new car.
Another way Mount Airy Toyota is serving their customer's late night needs is through their website. "Our customers are usually more informed and can even fill out an online finance application before stepping on to the lot, which can really speed up the car buying process," says York. Fox Business reports that "the internet has largely changed the way we buy cars, creating better informed shoppers and more competitive pricing."
Mount Airy Toyota is located at 508 N. Andy Griffith Parkway. It was recently purchased by Scott McCorkle of Charlotte, NC. McCorkle has been in the car business for over 25 years and is pleased to be a part of the Mt. Airy Toyota Scion Family. "We hope our new hours will serve the community of Mt. Airy successfully," says McCorkle. To learn more about their dealership visit http://www.mountairytoyota.com. "We are still the same family-focused dealership, but now you'll have more time to get to know us," says McCorkle.