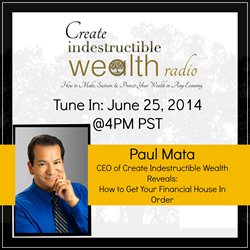 Rancho Cucamonga, CA (PRWEB) June 25, 2014
Debt and financial uncertainty has been on the rise for many Americans. Many people do not know how to create a simple spending plan. "The very first thing I do with my clients is create a detailed spending plan--Knowing where your money is coming in and going to is crucial to financial stability," stated Paul Mata, CEO of Create Indestructible Wealth. Paul will be revealing how to effectively get your financial house in order on his new radio show: Create Indestructible Wealth Radio on the Double Wide Network. This show will air June 25th, 2014 at 4PM PST.
If Americans ignore the fact that they have growing debt and no plan to resolve them, the financial stress can decrease mental and physical health. Trouble sleeping at night is a detrimental side effect of financial stress because people become deeply consumed by the unfortunate financial situations that encumber their lives.
Paul Mata wants to shed some light to this terrible financial trend and help people Create Indestructible Wealth. The saying goes, 'Knowledge is power', and with this knowledge can come the power over finances. Do not miss out on this valuable information, as it could be the answer your pocket book is looking for. Tune in June 25, 2014 at 4PM PST: Create Indestructible Wealth Radio
About Logos Lifetime Enterprises:
Logos Lifetime Enterprises' mission is to help people lead an abundant and prosperous life with a passion to serve others. They help people of all ages and backgrounds lead better lives by helping them make, sustain, and protect their wealth in any economy.
Logos Lifetime University was founded and developed by Paul Mata, who has over 20 years of experience working at a Wall Street Firm as a stockbroker and managing principal. After creating more than nine successful companies, Mata decided to establish Logos Lifetime Enterprises in 2012 to teach people everything he learned about creating wealth. Author of the book Create Indestructible Wealth: How to Make, Sustain, and Protect Your Wealth in Any Economy, Mata is the leading expert on creating holistic wealth. Today, Mata focuses on helping people create indestructible wealth through his proprietary 12-step wealth creation system that incorporates growing people's financial assets, as well as their mental and physical assets, so they can develop a wealth that can never be destroyed.
For more information visit http://www.CreateIndestructibleWealth.com, like CIW on Facebook and Follow CIW on Twitter.