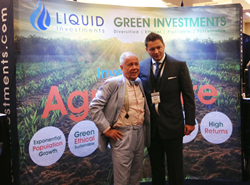 ...get a Lamborghini dealership in Oklahoma or in Nebraska because farmers are going to be driving the Lamborghinis; stockbrokers are going to be driving tractors.
(PRWEB UK) 27 June 2014
Liquid Investments look forward to seeing Jim Rogers as well as existing and prospective clients, at their much anticipated Plantation Tour and Conference in September 2014.
The Largest Plantation Tour & Conference Yet – An Opportunity Too Good To Miss
Investors will have the chance to meet Jim Rogers and Anthony J. Archer, Liquid's Founder and CEO together in Brazil, at their intimate annual investment conference to be held in Fortaleza, and at Liquid's plantations located a couple of hours up the coast.
There will be a fantastic opportunity to:

Hear the thoughts and interact with leaders in the investment world – Anthony J. Archer, Jim Rogers, Peter Zipper, Joel Nagel and Jesus Mantas
Visit Liquid's neem factory
Enjoy full tours of Liquid's coconut and neem plantations
Meet Liquid's Joint Venture Partners and plantation management team, Cohibra
Enjoy cocktails, drink and local cuisine
As the keynote speaker for Liquid's conference, Jim will be available to discuss all aspects of investing; the current state of markets; as well as focusing on Liquid's shared niche area of interest – Agricultural Commodities.
Don't miss out on this rare opportunity to meet Jim Rogers and the Liquid Investments Team in an intimate setting. Register today to find out more and to attend the conference.