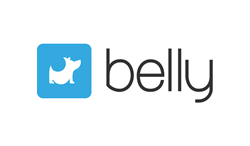 We've worked tirelessly to build the team and processes needed to grow internationally. Vancouver is where we've started.
Chicago, IL (PRWEB) June 30, 2014
Belly, the leader in loyalty across the United States with more than three million members, has expanded to Canada. Belly launched the Vancouver market with 50 locations, and is hiring locally to build out its sales team.
"Expanding to Vancouver, Belly's first international market, is a major milestone in our growth and trajectory," said Logan LaHive, Founder/CEO at Belly. "We've worked tirelessly to build the team and processes needed to grow internationally. Vancouver is where we've started."
Belly's marketing solution, built on a loyalty program, helps businesses strengthen customer relationships by creating digital connections. Belly lets businesses identify their loyal customers, bring them back more frequently, acquire new ones, and communicate with them simply and effectively.
In addition to international expansion, Belly has made a number of new hires on the Engineering team to accelerate its development of marketing tools for small businesses. Since the beginning of 2014, the size of the Engineering team has more than doubled, including the addition of Fred Lee, VP of Engineering.
"We want Belly to be a name that is synonymous with giving businesses the ability to bring their in-store experiences online and giving customers one app to use at all of their favorite places," continued LaHive.
Belly members can check in at all Belly businesses using its iPhone and Android applications or a physical Belly card. The larger the network of Belly businesses, the more beneficial the program becomes both to businesses and members.
Since August 2011, Belly has gained more than three million members who have redeemed more than one million rewards and racked up 30 million visits at over 7,000 businesses nationwide. Thus far in 2014, Belly has hired more than 50 employees, mostly in engineering and sales.
Belly is the fastest-growing loyalty company in the market and was the first to reach three million members. For more information, visit its website.
About Belly
Belly is a leading loyalty program and marketing solution with more than 7,000 merchants and three million members. Belly revolutionizes traditional loyalty concepts and works with each business to design a customized, unique rewards program their customers actually want. Using a tablet and single card or iPhone or Android app, Belly unlocks new opportunities for customer engagement and digital advocacy. Belly is headquartered in Chicago, Illinois and received funding from Andreessen Horowitz, Silicon Valley Bank, Lightbank, NEA, DAG Ventures, Cisco, and 7-Ventures, LLC (a subsidiary of 7-Eleven, Inc.). For more information, visit http://www.bellycard.com.