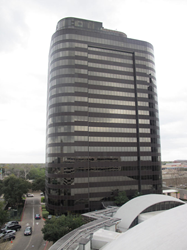 Mohammad Anwar, President of Softway Solutions, is "very pleased with the smooth transition of the move and overjoyed with the possibilities offered by the amenities and structure of the new space."
(PRWEB) June 30, 2014
Both Softway Solutions US and India continue to grow and expand their capabilities which in-turn adds new talent. The Bangalore, India office has expanded a few times in the last 2 years and they have another 4,000 square feet under construction now that should be ready to occupy by the end of the summer. The two offices work together during their transitions to ensure there is little to no downtime for the production teams.
The US office move was smooth and without issue and within the first 24 hours of business in the new space the staff felt a renewed sense of closeness to one another. The new office allows a majority of the US staff to be within arms length and a birds' eye view. The previous space occupied by Softway Solutions US staff included 5 separate suites that divided up the teams by their specific role in the company. Meeting rooms and scheduled attendance were the predominant means of collaboration whereas now, the staff can easily access one another for a quick conversation.
On top of the collaborative work environment, the new office space comes equipped with new office furniture and a variety of large and small meeting rooms outfitted with easy to use technology and located in all corners. The most popular of these meeting rooms is a multi-purpose break room that comfortably sits 60 people without folding up the ping-pong table or disturbing the video game activities. It has been a very long time since the group has been able to enjoy a meal together without leaving the office.
Mohammad Anwar, President of Softway Solutions, is "very pleased with the smooth transition of the move and overjoyed with the possibilities offered by the amenities and structure of the new space."
Softway Solutions is a forward-thinking organization with future plans to expand their current space. Before progressing on the recent move, the management team ensured they would not only have enough space for immediate over-population issues but also enough to cover the expected future growth. The current space sits adjacent to a vacant area that can be easily added onto the new office; this growth will be an expansion to the entire floor of the office tower where they are located.
Softway Solutions is an interactive marketing agency delivering seamless digital integrations since 2003 and currently employs over 200 full-time staff members in Houston, Texas, USA and Bangalore, India. Offering services such as multimedia, graphic design, software development and Internet marketing the company focuses on providing digital products that drive profitability. This attention to maximizing return on investment has served as a key element of Softway Solutions' growth; the company has been named one of Houston Business Journal's "Fast 100" in both 2011 and 2012.