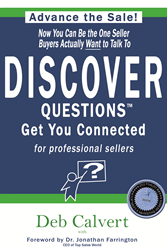 Make the time to kick off your shoes, turn off the smart phone, browse the list..., and fill your mind with GREAT ideas you can implement in your sales career. - Nancy Bleeke
San Jose, CA (PRWEB) June 27, 2014
Nancy Bleeke, President of Sales Pro Insider, says "I'm often asked for recommendations for the BEST sales book. So…which book is it? The answer is… it depends! It depends on what you need at this time to catapult your sales forward, re-energize your commitment to the activities, and address any gaps that are holding you back. Or maybe you just want to sharpen your skills and confidence!"
That's why each year Sales Pro Insider, Inc. compiles a list of sales books that offer sales and marketing tips, tools, and techniques. This prestigious list is helpful for sellers who want to excel in all aspects of their profession.
DISCOVER Questions™ Get You Connected, by Deb Calvert of People First Productivity Solutions, was a finalist for 2013 Top Sales & Marketing Book of the Year. The book helps sellers "become the one seller that buyers truly want to talk to."
Calvert conducted over 20 years of field research on more than 10,000 sales calls to analyze types of questions used in selling. She interviewed sellers and buyers to better understand question effectiveness. Her conclusion was twofold: First, that there are only eight purposes for asking questions; and, second, when sellers understand these eight reasons they become more purposeful in crafting quality questions to truly engage buyers and advance the sale.
Sales expert Jill Konrath said, "Kudos to Deb Calvert for writing an insightful, highly impactful book on how salespeople can leverage questions to build trust, establish credibility and create value. Her in-depth, field-based research enabled her to formulate a DISCOVER methodology that takes us beyond SPIN Selling, the former gold standard for effective questioning skills."
Calvert's work with DISCOVER Questions™ continues. This is the first book in a five-book series because the eight purposes for asking questions have universal appeal and impact. The second book, due to be released in late 2014, is written for those in the coaching profession.
Additionally, People First Productivity Solutions is releasing book one (for selling professionals) in an e-book format in late July 2013. The popular DISCOVER Questions™ workshop for sellers will also be available to certified facilitators and trainers in July, with complete sets of workshop materials and train-the-trainer programs.
Calvert's work in the sales field and in launching this content contributed to her recent inclusion as a Top Sales & Marketing Influencer of 2014. She is the author of the popular CONNECT2Sell Blog, host of CONNECT! Online Radio for Selling Professionals, and a sought-after keynote speaker. Her company, People First Productivity Solutions, was founded in 2006 with the mission to help clients "build organizational strength by putting people first."