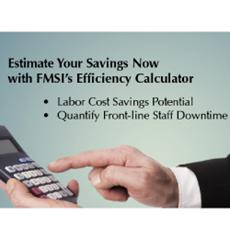 Alpharetta, GA (PRWEB) June 26, 2014
FMSI, a provider of staff scheduling and reporting solutions for banks and credit unions, announced today Service 1st has adopted FMSI's branch scheduler and reporting solution. The $237 million Pennsylvania-based financial institution will use the FMSI employee management system to improve their staff utilization across its eight retail branch locations.
"As part of our growth strategy, we implemented an efficiency initiative to help shore up some funding for new branch expansion," says Karen Wood, Chief Experience Officer at Service 1st. "An obvious place to find efficiency savings was our branch network, and we turned to FMSI to help us with this endeavor. Their system could not only improve the productivity and sales potential of our staff on an ongoing basis, but also help us reduce our staffing expense through improved workforce optimization measures."
FMSI's branch staff scheduler and reporting system addresses the concerns of today's financial institutions: keeping down expenses while improving service levels and sales in the branches. Through the collection and then preparation of front-line staff transaction data from an institution's core system, FMSI's solution quickly empowers management teams with easy-to-read and actionable business intelligence.
"Improving our front-line staff's sales effectiveness is a primary goal we have with the FMSI solution," adds Wood. "By better tracking our staff's idle-time with FMSI's system, we will be able to better guide them towards more sales related activities, such as making outbound calls and researching account holders they recently served. We are confident our referral numbers and new account openings will increase as a direct result of this increased focus."
"Maintaining teller staffing at the ideal level to ensure customer satisfaction can sometimes be a very credit union specific decision," says W. Michael Scott, President/CEO of FMSI. "Without accurate information, most financial institutions are not equipped to make a proper evaluation. With more than 25 years of experience helping banks and credit unions improve the productivity of their staff, our unique solutions for measuring and forecasting transaction volumes regularly reveal areas for better service, more sales and increased productivity."
About Service 1st
Service 1st began in Danville, Pennsylvania, in 1975 when a group of employees from the Geisinger Medical Center identified a need for credit union services and rallied the support and involvement of their colleagues to form a credit union. As Service 1st continued to grow in Montour County, branch locations were opened in Luzerne, Union, Snyder and Lycoming counties. These branch locations offer members access to Service 1st across Central and Northeastern Pennsylvania. Service 1st now serves nearly 22,000 members and partners with more than 1,000 employer groups and organizations across the region to provide affordable financial services. Learn more at http://www.service1.org.
About FMSI
Located in Atlanta, GA and established in 1990, FMSI provides easy-to-use, yet sophisticated, business intelligence systems – the Branch Staff Scheduler and Reporting System, The ContactCenter Management System™ (CMS), and the Lobby Tracking System™ (LTS)—that allow financial institutions to manage and staff to meet their service and sales needs. FMSI's smart scheduling application gives banks and credit unions the ability to optimally schedule their team throughout the branch network and to manage staff through easy to read color graphics, online interactive dashboards, and succinct management reports. FMSI provides performance management information exclusively to financial institutions of all sizes, including a workforce optimization comparative data benchmarking report that allows clients to see where they rank amongst their industry peers. Visit the company's website at http://www.fmsi.com or call 877.887.3022 to schedule a complimentary online demonstration of any of our products. You can also quickly estimate your savings with FMSI's Efficiency Calculator at http://www.fmsi.com/calculator/