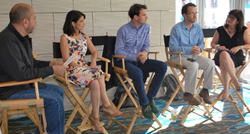 You have to be aware of all segments of the population because nowadays everyone wants to stay connected through their phones.
Los Angeles, CA (PRWEB) June 25, 2014
Something has been changing in the US Hispanic community. Leaving behind assumptions that they have no significant online presence, they are proving to over-index across social media platforms as there are now approximately 80% of Hispanics in the US using social media, according to a study conducted by Pew Research Center, that stay connected with their family, promote their businesses, and more.
This also acted as the main conclusion of the panel of professionals in the "How Can You Reach and Engage US Hispanics" conference at the 3rd Annual Silicon Beach Festival that took place in Santa Monica, CA this past Thursday, June 19, 2014.
Citing a study carried out by her company, Martha de la Torre, founder of EC Hispanic Media and El Clasificado, assured that among the Latino market in the US, young Latinos weren't the only audience to target as 20% of the consumers are 45 years of age or older stating "It's not true to say that older people don't like to connect."
De la Torre, who was accompanied by other panel members including Joe Kutchera, head of Hispanic content for Flipboard, Ana Flores, founder of Latina Bloggers Connect, and Frederick Hansen, head of business development for Click Performance Group, also added, "You have to be aware of all segments of the population because nowadays everyone wants to stay connected through their phones." The panel was moderated by Elias Chavando, social media specialist and partner at Applied Marketing Strategies.
Having been raised and living in Germany for a good portion of his life, Frederick Hansen had been surprised when he initially saw the strength of the US Hispanic market in terms of mobile indexation since the mobile market is not as strong in his homeland, but added, "This is a market we need to watch closely because there are numerous business opportunities." Adding to his recognition of the Latino American market, he also made sure to mention the power of social media when it comes to sharing content, that when done right provides "a tool that allows you to create a marketing campaign if your budget is low."
On the other hand, Flores, owner of a blog that has more than 1,500 Hispanic contributors of all levels, focused on building a sense of community noting that "It is essential to communicate with the public." While also acknowledging the fact that there is a strong mobile market among Latinos in the United States, she made sure to point out that there is a lack of education among the community. "I don't see a strong presence of Latinos in start-ups and that can be worrisome because it means that they are not using the resources available online at no cost."
Kutchera joined the conversation pointing out that 15% of Flipboard's US readers actively read and share content in Spanish on its digital magazine platform, which is why the company launched its US Latino content guide on June 3, 2014. "Spanish is the second-most popular language in which we receive inbound messages and questions. Plus, we see a lot of interest for country-of-origin content, such as the newspapers Milenio and Excelsior both of which are based in Mexico City."
The growth noted by the panel helped reaffirm that Hispanics did not just disappear, as was thought in 1980, but have become an verifiably targeted demographic for thousands of companies. As a result, this expert panel expressed that it is important to know the Hispanic culture in order to reach it. And in doing so, they must incorporate employees of the same cultural roots who understand the Latino-American audience, love coupons, share nearly everything with their families, and shop online. A large minority in motion.
About EC Hispanic Media
EC Hispanic Media is a multi-platform media company based in Los Angeles, CA that has helped large and small businesses reach US Hispanic grassroots shoppers through mobile, social, print, online, event and custom multimedia solutions for more than 25 years. Through its own proprietary media platforms and other media sources nationwide, EC Hispanic Media ensures that companies are able to reach niche targeted markets including Latina Moms and Families, Hispanic Millennials, Upscale Latinos, and more in their local markets through the media platforms they use most and in their preferred language.