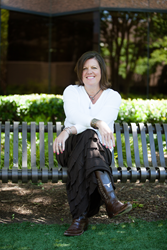 Amy Howell's 'High Gear' hands-on knowldge of how to combine public relations and social media for success and crisis management in our online world is unsurpassed.
Memphis, TN (PRWEB) June 26, 2014
Amy D. Howell, CEO and owner of Howell Marketing Strategies (HMS) headquartered in Memphis, TN, and co-author of Women in High Gear, will deliver a keynote address "Telling Your Story Online: How Social Media Has Impacted PR and Business" to more than 200 attendees at the national DFW Rocks Social Media Day Annual Social Media Conference on International Social Media Day—June 30, 2014—in Dallas-Fort Worth, Texas.
"DFW proudly welcomes Amy Howell's enthusiasm, energy, and charisma back to Texas," says Lissa Duty, event organizer and social media coach and strategist. "Amy's 'High Gear' hands-on knowledge of how to combine public relations and social media for success and crisis management in our online world is unsurpassed."
"In today's digital economy, you don't find the news; it finds you," says Amy Howell. "I'm looking forward to sharing with DFW attendees how the public relations landscape has shifted from a traditional PR model into a socially-charged merger of online content and experiences."
A Texan living in Tennessee, Amy is a veteran communications professional specializing in public relations, marketing, and social media. Her firm, Howell Marketing Strategies, was established in 1994 and her team serves clients across industries including real estate, banking, aviation, and manufacturing.
"Having the privilege of working with Amy for several years, I can attest to the fact that she continues to be a leader on the cutting edge of smart digital marketing and PR," says Glen Gilmore, author of "Social Media Law for Business" and a Forbes "Top 50 Social Media Power Influencer." "Whether it's a presentation to a board room or a marketing conference, Amy can be counted on to inspire and inform."
Amy is a frequent blogger, media source, and speaker at conferences and events. She is the recipient of many awards and honors: 2010 The Huffington Post "Top Business Mind on Twitter," 2012 Ragan's PR Daily Awards "Best Use of SEO" Honorable Mention, and Memphis Magazine "50 Women Who Make A Difference," to name a few.
When she's not strategizing for clients or working tirelessly in the Memphis community, Amy can be found tweeting, floating down the Tennessee River, and spending time with husband Jim and their teenage son and daughter.
Created in 2012 by Lissa Duty, the DFW Rocks Social Media Day Annual Conference delivers social media knowledge and celebrates International Social Media Day. Mashable declared the first-ever Social Media Day on June 30, 2010, and the city of Victoria, Canada, quickly followed suit. Since then, cities and countries across the globe have joined in the celebration by hosting and participating in educational events, meetups, and tweetups.