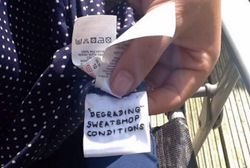 Philadelphia, PA (PRWEB) July 01, 2014
In light of recent news that calls into question a South Wales retailer's manufacturing conditions, sustainable clothing leader Steel Pony reaffirms its commitment to the environment—and fair wages and working conditions.
Just this week, a message sewn into a Primark dress was discovered in a Swansea store that offers insight into possible degrading working conditions. Now, a total of two shoppers, according to The Guardian, have reported finding such labels in Swansea, South Wales.
Although Primark has promised to investigate the matter, Joanne Litz, owner and designer at sustainable clothing line Steel Pony says the incident is a reminder of the importance of monitoring textile industry standards.
"Our philosophy is to create sustainable artisan clothing with eco-friendly materials and within the US where workers are protected and fairly paid," Litz said. "In light of recent news of potential derogatory garment factory conditions, we'd like to reaffirm our commitment to this philosophy."
About Steel Pony
ArtWear designers Joanne Litz and Dennis Wolk have built the Steel Pony brand by following their own rules. With a comfortable and relaxed lifestyle approach, Steel Pony creates sustainable eco-friendly artisan clothing that is made for the woman who appreciates individual expression. To see what Steel Pony can do for you and your lifestyle, visit http://www.steelpony.com.