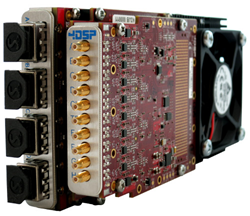 The FM788 provides predictable performance in a small form factor and reduces overall system power consumption.
Austin, TX (PRWEB) July 03, 2014
4DSP's new FM788 is a FPGA-based COTS card designed to deliver unparalleled performance for a variety of applications, including beamforming, direction finding, RADAR, and satellite communications. This XMC module is based on Xilinx's Virtex-7 and features eight 16-bit A/D channels running up to 250Msps each. Its design provides the largest channel count in this frequency range and the most available onboard memory for real-time buffering of large data vectors. With four 10Gbps optical transceivers, the FM788 can be directly connected to a remote storage system without any CPU involvement.
"This approach of offering a way to digitize multiple analog channels, perform signal processing using the Virtex-7 and offload data to a storage system using optical connections on a single card overcomes the inherent limitations of bussed architectures," said Pierrick Vulliez. "The FM788 provides predictable performance in a small form factor and reduces overall system power consumption."
With the option to be conduction-cooled, the FM788 features 10GBytes of DDR3 SDRAM that is tightly coupled to the FPGA. The card also has the ability to synchronize signal sampling, making it an excellent choice for large channel count data acquisition.
Features:

Virtex-7 XC7VX485T, XC7VX980T, XC7VX690T, XC7VX1140T
Eight-channel 16-bit 250MSPS A/D conversion
Available as air-cooled and conduction-cooled. Heat sink available for air-cooled applications
XMC form factor
Coaxial front panel inputs on SSMC connectors
Single-ended, AC- or DC-coupled analog input
4x 10Gbps transceivers
Flexible clock tree with onboard or external clock
Trigger/Sync input
PCIe controller: 4- and 8-lane
XMC to PCIe adapter available. Please contact sales@4dsp.com for more information.
1Gbit FPGA configuration onboard Flash
128Mbit user-defined Flash ROM
Firmware/Software Support:

Stellar IP available for this product. A simple way to design FPGA firmware with automated code and bitstream generation
Board Support Package (BSP)
Data analyzer
Board control and monitoring tools
Flash programming utility
Confidence tests
Host side API
Software program example
Xilinx ISE projects for both FPGA
Test firmware and VHDL source code
Drivers for Windows, Linux and VxWorks
Applications:

Beamforming
Direction Finding
Software Defined Radio (SDR)
RADAR/SONAR
Satellite communication systems
JPEG2000 Video Image Processors
Baseband Communication Transceivers
Multi-Channel digital receivers
Up to 64M-point floating-point FFT processing
Event Processor & Recorder
More details about this product can be found on the following page:
FM788
Sales Contacts:
USA / International
Michael Brown
Tel: +1 (800) 816-1751
Fax: +1 (775) 473-9928
sales(at)4dsp(dot)com
4DSP LLC, 1210 San Antonio Street, Suite 801, Austin, TX 78701, USA
Europe
Erik Barhorst
Tel: +31-172-782-190
Fax: +31-172-891-261
saleseurope(at)4dsp(dot)com
4DSP BV, Ondernemingsweg 66f, 2404HN, Alphen aan den Rijn, Netherlands
About 4DSP LLC
4DSP is an innovative company specializing in compact, low-power, and low-weight FPGA-based signal and image processing systems. Founded in 2004 and headquartered in Austin, Texas, USA, with offices in the Netherlands, 4DSP develops reconfigurable computers of advanced architecture that offer maximum flexibility and scalability. 4DSP's hardware platforms deliver unmatched performance for advanced digital signal processing (DSP) in embedded computing applications. More information about 4DSP can be found at http://www.4dsp.com.