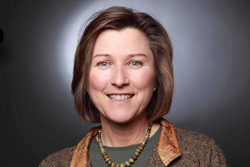 She is a team-oriented professional who is well regarded by our attorneys, our staff and our clients. PF+C could not be better served than to be led by Stephanie.
Burlington, VT (PRWEB) June 26, 2014
Stephanie Mapes, PF+C's Captive Insurance Team leader, was elected in June as President of the firm. Mapes has worked at PF+C for 26 years and has helped lead the firm for the past two years as one of three members of the board's executive committee. Mapes is the firm's first female president in PF+C's 46-year history.
"The firm is in a strong position," says Mapes. "This is in no small part due to the legacy of leaders—R. Allan Paul, one of the firm's founders, John T. Sartore, Alan D. Port and S. Crocker Bennett, II—who came before me. These accomplished attorneys built a strong foundation for the firm, and I will proudly carry on their legacy for the next generation."
Mapes' predecessor as president, S. Crocker Bennett, II, who ran the firm from 2010 until June, says: "As vice-president during my period as president, Stephanie enhanced my work. She is a team-oriented professional who is well regarded by our attorneys, our staff and our clients. PF+C could not be better served than to be led by Stephanie."
Mapes will continue to lead the firm's Captive Insurance team while acting as President. "I really have the greatest team—in the Captive Insurance practice group—and I am grateful for their support," Mapes says. "What will make me successful in the role as president is what makes me successful as the Captive Insurance group leader. I am a big-picture thinker with a strategic focus and I believe in motivating with positivity."
Alan D. Port, who has worked with Stephanie on the Captive Insurance team for 25 years, adds: "Stephanie's organization and leadership skills for the Captive Insurance team and for firm management proved invaluable while I was leader of the team and president of the firm. I expect that, through Stephanie's leadership, both the captive team and the firm will reach levels of success far beyond those under my leadership. There is no one else that I would rather have had for a working partner over our time together."
Mapes began her legal career in 1983 working for a dear friend and legal mentor at a law firm in Florida before relocating to Vermont to attended Vermont Law School. "I was the receptionist, the office assistant, a legal assistant, the bookkeeper and a paralegal. I can relate to all of these positions in the firm and I know the value of each and every employee that it takes to run a firm," says Mapes. She began working at PF+C in 1988 as an associate attorney and has held numerous leadership positions over the years, including her past chairmanship of the marketing and strategic planning committees, and her role on the executive committee. She became a shareholder of the firm in 1994 and helped create a firm-wide strategic plan in 2007.
In addition to leading the firm's three-person executive team, Mapes is one of a four-person management team at PF+C. Rebecca Guenther is the firm's Manager. Julliana Von Bernewitz is the I.T. Manager and Colleen M. Price is Financial Manager. Mapes is a member and past chair of the Legislative Committee of the Vermont Captive Insurance Association (VCIA) and a member of the Government Affairs Committee of the National Risk Retention Association (NRRA), among other community involvement
About Paul Frank + Collins
Paul Frank + Collins (PF+C), located in Burlington, Vermont, offers diverse practices to meet the dynamic needs of a wide range of clients. PF+C represents individual, corporate, banking, insurance, and institutional clients, including hospitals and colleges. PF+C's award-winning business law attorneys are nationally recognized for their high professional ability. Areas of concentration include: Business Law, Captive Insurance, Employment and Immigration, Estate Planning, Insurance Services, Litigation, and Property and Development. Visit Paul Frank + Collins online at http://www.pfclaw.com or by phone 802.658.2311 and connect via LinkedIn.