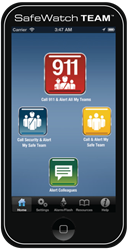 Our goal is to keep workplace populations safer by using the SafeWatch TEAM(R) app and to emplower them by providing a regular active threat drill." Jill Campbell
Los Angeles, CA (PRWEB) June 26, 2014
Jill Campbell, CEO and Founder of Safety Alert Apps, Inc., the White House award-winning Smartphone Safety App technology development company, announced today an Emergency Drill initiative that the company will be offering as part of its training program as a result of the growing number of corporations, non-profit organizations, and educational institutions who utilize the company's SafeWatch TEAM® smartphone safety app.
In making the announcement, Campbell said, "Having SafeWatch TEAM® on your smart phone is key to helping keep yourself and your colleagues safe in an active threat. And, employing regular Emergency Drills for any Active Threat in the workplace are a critical component of reducing the number of victims."
She continued, "No children have died in school fires in the last 50 years in part because regular drills have conditioned students and faculty to know exactly what to do to avoid being a victim." She added, "Our goal is to keep institutional workplace populations safer by using our SafeWatch TEAM® app and to empower them by providing a regular emergency drill procedure that becomes so familiar to them, they instinctively know how to react to any big emergency, whether it is an Active Shooter or a severe weather event."
The company's new drill initiative was lauded by Mark Genatempo, Managing Director of Cardinal Point Strategies, a strategic advisory consulting firm specializing in training and policy development in Emergency Operations. Genatempo said, "The increase of occurrences of Active Shooters in the US make it imperative that all organizations partner with their local law enforcement and include Active Shooter Response Drills as part of their regular emergency operations procedures."
SafeWatch TEAM® app turns a smartphone into a fully customizable multi-tasking emergency tool that immediately communicates critical incident information, in real time. The user is on the phone with 911/security team, and simultaneously preselected text and email alerts are sent with GPS location to multiple layers of first responders during the first seconds of any emergency. Safety Alert Apps, Inc., based in Sun Valley, California is the leading provider of Smartphone Safety Alert Applications, producing safety apps for the consumer and institutional markets.
To find out more about the company and all their products, visit http://www.SafetyAlertApps.com.