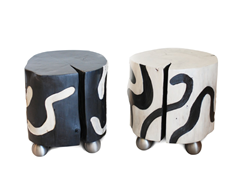 "I love the fusion of old world traditions with a contemporary edge," says Andrea Wendel, Founder of Andi-Le Aspen.
Aspen, CO (PRWEB) July 01, 2014
Andi-Le inc has created custom home accent furniture and accessories for designers and collectors for over 20 years.
Andi-Le Aspen collections consist of the whims, inspirations and lifestyle of Andrea Wendel, founder of Andi-Le inc.
Inspired by felled Aspen logs and their individuality, Andrea creates table/seats. Carved, burned and often topped with an unusual cushion like shaggy leather, or Mongolian lamb -these accents uplift your decor. Andrea is known for juxtaposed materials and pieces adorned with sophisticated embellishments. "I love the fusion of old world traditions with a contemporary edge," says Andrea.
"Decor should be a personal expression with pieces collected over a lifetime that found its way to your home. Rooms that tell a story with pieces that have meaning and soul. Adding richness and depth." Andrea is passionate about the things people surround themselves with. "They should evoke an emotion, trigger memories, peace, creativity and speak to you."
As a visual artist, Andrea creates from a sculptors viewpoint and makes it functional. Nothing mass produced here, a lot of laborious textures and inlaid elements that have the hand of the artist's imprint. Home accents by Andi-Le Aspen contain elements of both beauty and purpose, artisan-designed products that serve as unique links between interior decor and emotions.
Always adding new collections to Andi-Le Aspen keeps Andrea inspired and fresh. Designing for her Aspen lifestyle in which entertaining is a huge part, she will be launching exceptional pieces to wow guests this month, in time for summer fun; so stay tuned.
Sign up at LUXDETAILS.com to be the first to see the new products before they are gone. The artisan designed and created products at LUXDETAILS.com keep purchases and personal and exclusive.
Andi-le Aspen is located just outside of Aspen, in Woody Creek, Colorado. Designer and builder, Andrea Wendel, strives to create pieces that strike a balance between a sophisticated style with an edge and functional design. Hand carved seating, end tables, and sculptural candleholders are just a few of the home accents created at Andi-Le. Andi-Le's custom accent furniture is available directly through Andi-Le inc.