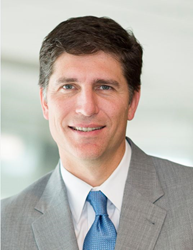 Scott's wide range of experience is an important variable in our Central Division toll-market-growth equation.
Houston (PRWEB) June 25, 2014
Scott Cooper, PE, has joined HNTB Corporation as national toll practice consultant and vice president. Based in Houston, Cooper is responsible for securing and leading the growth of HNTB's share of the toll market in its Central Division and assisting similar efforts nationally.
During his more than 20 years of experience in planning, designing, constructing and operating major transportation infrastructure facilities, Cooper has worked on numerous large-scale tolling projects, including overseeing the design and construction of the Katy Freeway, the Fort Bend County Toll Road and the Westpark Tollway in Houston.
"Scott's wide range of experience is an important variable in our Central Division toll-market-growth equation," said Jim Ely, HNTB chair toll services. "His expertise will provide valuable solutions to our clients."
Cooper joins a growing team of HNTB professionals in Texas, according to Tom O'Grady, Central Division president for HNTB. "We're pleased to add high quality professionals such as Scott to our team in Texas. These individuals play a vital role in helping continue growing our toll practice in the state."
Cooper is actively involved in numerous industry organizations, including the American Society of Civil Engineers, the International Bridge, Tunnel and Turnpike Association and the American Council of Engineering Companies. He also plays an active role in the community, serving as board member for the Houston Select Football League, a leader for Boy Scout Troop 13 and a volunteer with the Children's Fund of Houston.
Cooper earned his bachelor's degree in civil engineering from Texas A&M University. He joins a company-wide team of internationally recognized toll experts focused on ensuring the safety, compatibility, affordability and design-integrity of large-scale tolling projects. HNTB is the nation's top toll consulting firm, providing more specialized services to agencies than any other engineering corporation.
HNTB Corporation is an employee-owned infrastructure firm serving public and private owners and contractors. Celebrating a century of service, HNTB understands the life cycle of infrastructure and addresses clients' most complex technical, financial and operational challenges. Professionals nationwide deliver a full range of infrastructure-related services, including award-winning planning, design, program delivery and construction management. For more information, visit http://www.hntb.com.