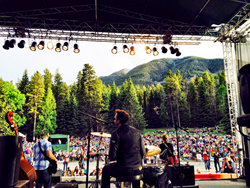 "I had a blast in Banff. Was great to be home singing my songs after all the touring we do everywhere else! Playing outside in the Rockies in the summertime is pretty hard to beat". - Corb Lund
Banff, Alberta (PRWEB) June 26, 2014
Banff National Park Hosts Two-Day Outdoor Music Festival, 'Performance in the Park' - Record Numbers of Spectators Come Out for Music & Mountains
Banff's picturesque Cascade Gardens played host to the fifth 'Performance in the Park' this past weekend; the outdoor venue welcomed over 5000 spectators to take in live music including headliners Corb Lund, Sara Harmer, Elliott BROOD and Whitehorse over two days, June 20 – 21. Set against a dramatic mountain backdrop, the annual concert brings together some of the finest homegrown talent from across Canada to the heart of the Canadian Rockies.
Sarah Harmer, one of the most distinctive voices of the Canadian rock and folk music scenes played to the all-ages crowd on Friday evening, having shared the stage with Canadian husband and wife guitar duo, Whitehorse. Saturday's line-up was an eclectic music mix of folk rock and alternative country sounds thanks to an energetic opening from Jeremy Fisher, crowd-pleasers Elliott BROOD and Alberta's very own country 'honky-tonker' Corb Lund delighting the afternoon audience.
With an impressive string of music awards and nominations, including 2013's Roots Artist of the Year, Lund is the first Alberta-born artist to perform at Banff's big outdoor concert and relishes the opportunity to sing for a hometown crowd in the Rocky Mountains. Lund, performing in a signature black cowboy hat, played popular hits from the group's back catalogue as well as entertaining onlookers with sounds from new album, 'Counterfeit Blues'.
Commenting on his 'Performance in the Park' appearance, Corb Lund said: "I had a blast in Banff. Was great to be home singing my songs after all the touring we do everywhere else! Playing outside in the Rockies in the summertime is pretty hard to beat and it's always fun to see my buddies in Elliott Brood. Thanks Banff - see ya next time through!"
Stuart Back, Banff Lake Louise Tourism adds: "The 2014 'Performance in the Park' Festival was the most successful to date, drawing in record numbers of spectators for its fifth year. The caliber of musicians we were able to schedule this year was fantastic and as a result, we saw visitors from all across the Province join Banff locals to enjoy the music, the sunshine and the family-friendly atmosphere. Banff Lake Louise Tourism is pleased it can continue to work with its partners, Parks Canada and The Banff Centre to deliver such a successful event which is gaining momentum each year. We all look forward to inviting more talented musicians for Performance in the Park 2015."
Performance in the Park is produced in partnership with Parks Canada, The Banff Centre and Banff Lake Louise Tourism and was introduced in 2010 to celebrate the destination's mountain heritage and the importance of protected places in Canada.
[Ends]