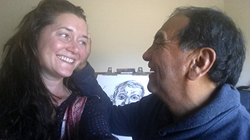 I received the most profound art lesson of my life, with a teacher who speaks not of art, but of Presence.
Santa Fe, NM (PRWEB) June 26, 2014
Robbi Firestone sketched portraits of Don Miguel Ruiz during a profound and reflective afternoon at his home in southern California in preparation for Firestone's newest project, "Twelve Global Visionaries."
Don Miguel is the legendary spiritual teacher and international best selling author of "The Four Agreements.".
Ruiz said of his experience with Firestone, "I enjoy to see how Robbi expresses her love with art." Firestone notes that during the process, Ruiz felt her distracted moments and stopped her saying, "Look into my eyes, Robbi. Paint the love you have for me. Paint the love I have for you. Paint love."
Firestone said of the day with Ruiz, "I received the most profound art lesson of my life, with a teacher who speaks not of art, but of Presence. Being in the Now. Don Miguel taught me to paint from complete desire; free from expectation and judgment...a perfect lesson for us all. The day we spent will forever influence my life and art."
Firestone also sat with Reverend Dr. Michael Beckwith, Founder of Agape International Spiritual Center in Los Angeles and internationally best-selling book and film, "The Secret," who has also committed to the project.
"Michael Beckwith is my great teacher; he taught me to hear Spirit's voice within my heart and mind." Firestone says. "My love and gratitude to these two men, Michael and Don Miguel, moves beyond expression. "Twelve Global Visionaries," is my humble attempt to thank them as profound guides in my life and, to introduce others to their wisdom and teachings."
Firestone's lifelong curiosity with ancient wisdom and 'new thought' prompted her current project. Firestone will paint roughly one "global visionary," who has personally influenced her, per month for twelve months. Each participant will be revealed as the project moves forward.
Twelve Global Visionaries promises to be a distinctive body of work infusing each sitter's teachings into audiences where they might not normally be found: politics and art.
Each visionary will inspire Firestone's portrait material and process. This marks an exciting departure from the artist's renowned signature Spirit Capture paintings, about which Jean Oppermann of California College of the Arts said, "Robbi Firestone's work looks as if Lucien Freud took a bliss pill."
Journalist Victoria Becker says of Firestones work, "Impressionistic or Fauvist colored figuratives with a mid century brushstroke, reminiscent of Lucien Freud or Francis Bacon."
Don Miguel Ruiz is the author of a series of books including The Four Agreements – over 7 years on The New York Times bestseller list – and the 36th bestselling book of the decade. He has dedicated his life to sharing the wisdom of the Toltec through his books, lectures, and journeys to sacred sites around the world. Ruiz's other books include: The Mastery of Love, The Voice of Knowledge, Prayers, Beyond Fear and The Fifth Agreement.
Robbi Firestone is a Licensed Spiritual Practitioner (RScP), fine artist, speaker, and coach. With her deftly creative force, Firestone addresses Fortune 500 CEOs, Young Presidents Organization, and cultural creatives—from intimate meetings to audiences reaching 2000. Firestone's prized oil portraits, known as "Spirit Capture" portrait commissions, deftly reflect her subjects' inner selves, hopes, and dreams, as well as the faces they show to the world. Learn more about Spirit Capture Oil Portrait Commissions and Robbi Firestone's work at http://www.RobbiFirestone.com.