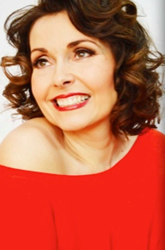 England (PRWEB UK) 26 June 2014
Sally Bee continues her amazing work in promoting and planning for the best in health for families across the country. Sally has banked her own children's tooth stem cells with BioEden and now acts as an ambassador for the company. Nobody understands better the importance of planning ahead and making sure that all steps have been taken in order to safeguard the future well being of our children than Sally Bee. Sally was filmed visiting the unit in Birmingham hospital which provides treatment for children with heart conditions. Last week Sally appeared on TV on the Lorraine Kelly show, demonstrating how easy and quick it is to create and cook healthy family meals.
On the subject of stem cell banking from teeth, Sally found the process simple and easy given that the milk teeth fall out naturally and no dentist intervention was required. Sally added, "I didn't account for the peace of mind that banking my children's cells has brought me."