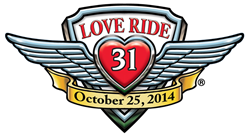 Castaic Lake, Calif., (PRWEB) June 25, 2014
Thousands of riders are expected to join the 31st Annual Love Ride, the longest running single-day motorcycle fundraiser in the world, to benefit the Muscular Dystrophy Association on Oct. 25, 2014.
The Budweiser Presents 31st Annual Love Ride, Powered by GEICO Motorcycle, will feature Jay Leno as Grand Marshall and Hollywood celebrities, including Robert Patrick, Lorenzo Lamas, Willie G. Davidson and Peter Fonda. The Doors' Robby Krieger returns to the Love Ride with his Jam Kitchen, and will headline the day-long concert.
The all-day concert kicks off the fourth decade of fundraising for charitable causes. Net proceeds from this year's event will support children served by MDA living in Southern California and help them attend a weeklong, barrier-free summer camp in the area. MDA summer camp offers a wide range of activities specially designed for youngsters who have limited mobility or use wheelchairs. Each year, campers have an unmatched opportunity to develop lifelong friendships, share interests and build self-confidence.
Registration for the 31st annual Love ride is open at LoveRide.org.
Southern California Harley-Davidson Dealers Association Supporting the Love Ride
The Love Ride is sponsored by the Southern California Harley-Davidson Dealers Association, with Harley-Davidson dealers throughout the region hosting rides to the day-long concert and festival at Castaic Lake. For motorcycle riders and non-motorcycle riders alike, the event features special music performances by Robby Kreiger's Jam Kitchen, and more to be announced. Special guests will join throughout the day. Attendees will also enjoy delicious food trucks, drawings for exclusive motorcycle items, a custom bike and stunt show and more.
"Launching our fourth decade, we are proud to once again support MDA and help local children living with muscle disease enjoy MDA's famous summer camps," said Oliver Shokouh, owner of Harley-Davidson of Glendale and founder of Love Ride. "In our first three decades, Love Ride participants have raised over $24 million for important charities. Thanks to the continued and growing support of the Southern California Harley-Davidson Dealers Association, the Love Ride has a great future ahead of it."
"MDA Summer Camp is the 'best week of the year' for kids living with muscle disease and it would not be possible without the support from partners like Harley-Davidson, and the dedicated Love Ride participants who continue to drive the progress in the fight against muscle disease," said MDA Vice President, Retail Operations Scarlett Marchman. "The undoubted success of this year's event will send many children in California to MDA camp for an unforgettable, barrier-free week."
"My wife and I have attended almost every Love Ride since its inception, so I can testify that every year for the past 30 years this event has gotten better and better. With a big party and legendary music performances, the Love Ride is the epitome of the genuine Harley-Davidson lifestyle. Come join us for one hell of a good time at the most badass SoCal event of the year - Love Ride 31," said Mark Ruffalo, president of the Southern California Harley-Davidson Dealers Association.
New for Love Ride 31
Starting a new tradition, Love Ride 31 will be on Saturday, Oct. 25, instead of the usual Sunday. Also, every Southern California Harley-Davidson Dealers Association dealer or local Harley Owners Group (HOG) chapter are encouraged to host a ride directly to Castaic Lake. Riders should connect their local dealer or HOG chapter for more information. Additionally, the Love Ride will host longer hours this year, with gates opening at 9 a.m. and closing at 5 p.m.
Participants can register now at LoveRide.org for the reduced ticket price of just $40. Admission includes all-day access to Castaic Lake, parking and one opportunity ticket for a chance to win a variety of prizes, including a 2014 Harley-Davidson Street Glide. Each advance ticket also includes a Love Ride 31 pin and patch (while supplies last). Admission will increase to $50 on September 2nd and at-the-door tickets will be $60.
All advance ticket holders will gain access to their own personal profile to build donations from friends and family, to fundraise for this great cause. Additional fundraising prizes start at only $100 and the top fundraising participant will earn the coveted title along with thousands of dollars in prizes. The 31st anniversary Love Ride will donate net proceeds from the event to MDA, with some funds targeted for the Glendale Community College.
Sponsors
Helping to make Love Ride 31 possible through their generosity and support, sponsors include Budweiser, GEICO Motorcycle, Sebastian Professional, Russ Brown, John Paul Mitchell Systems, City National Back and the City of Glendale.
Adding to the fun, title sponsor GEICO Motorcycle is hosting a Love Ride consumer enter-to-win contest offering participants the chance to win a brand new Harley-Davidson motorcycle. Entry forms will be available at most Western Regional Harley-Davidson dealerships starting September 1st.
For registration and more information about Love Ride 31, go to LoveRide.org. To keep up with the latest Love Ride 31 and motorcycle news follow them on Facebook (Love Ride Glendale HD), Twitter (@LoveRide) and their new Instagram (LoveRideHarley).
###
About Love Ride
Celebrating its 31st year, Love Ride is the largest one-day motorcycle event in the world. A place where people come to have a good time, while making a difference in the world we live in. To date, Love Ride has raised $24 million for charity in the US, and the spirit of the Love Ride has expanded to annual events in both Mexico and Europe.
Begun in 1984, the Love Ride was found by life long rider and Harley-Davidson dealer Oliver Shokouh. Through the years, the Love Ride has supported numerous national charities, including the Muscular Dystrophy Association, Autism Speaks, and the USO. Each Love Ride features motor cycle rides to a day-long music festival. During the festival, participants can enjoy a custom bike show, food trucks, a beer garden, and more.
About MDA
The Muscular Dystrophy Association is the world's leading nonprofit health agency dedicated to saving and improving the lives of anyone with muscle disease, including muscular dystrophy, amyotrophic lateral sclerosis (ALS) and other neuromuscular diseases. It does so by funding worldwide research to find treatments and cures; by providing comprehensive health care services and support to MDA families nationwide; and by rallying communities to fight back through advocacy, fundraising and local engagement. Visit mda.org and follow us at facebook.com/MDAnational and @MDAnews. Learn more about MDA's mission by watching this video.
About BUDWEISER
Budweiser, an American-style lager, was introduced in 1876 when company founder Adolphus Busch set out to create the United States' first truly national beer brand – brewed to be universally popular and transcend regional tastes. Each batch of Budweiser follows the family recipe used by five generations of Busch family brewmasters. Budweiser is a medium-bodied, flavorful, crisp and pure beer with blended layers of premium American and European hop aromas, brewed for the perfect balance of flavor and refreshment.
Budweiser is made at 12 state-of-the-art U.S. breweries using time-honored methods including "kraeusening" for natural carbonation and Beechwood aging, which results in unparalleled balance and character.
About GEICO
GEICO(Government Employees Insurance Company) is a member of the Berkshire Hathaway family of companies and is the second-largest private passenger auto insurance company in the United States. GEICO, which was founded in 1936, provides millions of auto insurance quotes to U.S. drivers annually. The company is pleased to serve more than 12 million private passenger customers and insures more than 20 million vehicles (auto & cycle).
GEICO's online service center helps policyholders take care of policy sales, policy changes and claims reporting, and print insurance ID cards. Policyholders can also connect to GEICO through the GEICO App, reach a representative over the phone or visit a GEICO local agent.
GEICO also provides insurance quotes on motorcycles, all-terrain vehicles (ATVs), travel trailers and motorhomes (RVs). Coverage for boats, life, homes and apartments is written by non-affiliated insurance companies and is secured through the GEICO Insurance Agency, Inc. Commercial auto insurance and personal umbrella protection are also available.
For more information, go to http://www.geico.com.