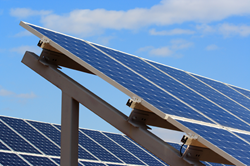 This will be the largest Solar Farm Project to date in North Carolina.
Asheville, NC (PRWEB) June 25, 2014
A Massive 80MW Solar Farm Project in North Carolina has recently received final approvals from Duke Energy. Innovative Solar 37, LLC is the solar farm project located in the middle of the state that will supply enough electricity to the grid to power approximately 20,000 average size homes. John E. Green, managing partner and CEO at Innovative Solar Systems states that this will be the single largest solar farm to be built in the state to date. The solar farm project will employ approximately 300,000 solar panels and eighty (80) state of the art DC to AC Inverters.
Large solar farm projects are nothing new to Innovative Solar Systems states, CEO John Green, as the company currently has over 500MW's of projects that have been approved by Duke Energy for 2014 and approximately another 500MW's that are in various stages of approvals or late development with the Utility. Large solar farm projects are harder projects to develop and get approved for many reasons but many large institutional type investors like these projects due to the lower install costs and higher rate of returns states Green of ISS.
ISS has been a leader in the development of solar farm projects here in the United States and has a solid track record with large utility companies like Duke Energy. As ISS finishes up its current portfolio of projects in North Carolina the company is very excited to have already expanded into many other key states and emerging markets where the company's large solar farm projects will afford investors nice returns. For more information on solar farm projects in the U.S. or for investor relations please contact ISS at (828)-215-9064.