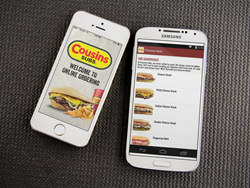 'Olo is excited to launch with Cousins Subs and help enhance its customer experience,' said Olo Founder & CEO Noah Glass. 'Some of our clients are seeing boosts in average ticket sizes of up to 25%.'
Milwaukee, Wisconsin (PRWEB) June 26, 2014
Cousins Subs launches a new online ordering platform, powered by Olo. Sub lovers ordering for office lunches and other parties will now benefit from customized catering and group orders among other enhancements like the ability to order ahead and skip the line.
"The new platform provides us with the flexibility and customization options we need in order to enhance our relationship with our loyal customers and take ordering to the next level," said Justin McCoy, Cousins Subs Vice President of Marketing.
Cousins Subs tapped into Olo's experience with menu design and digital ordering best practices for the project. The new site also provides a seamless transition between the brand site and ordering channels.
"We are excited to launch with Cousins Subs and help enhance their customer experience," said Olo Founder & CEO Noah Glass. "With some of our clients seeing boosts in average ticket sizes of up to 25%, we look forward to the value enhanced group ordering will add to Cousins' clients."
Customers in stores across Arizona, Florida, Minnesota, and Wisconsin can skip the line and order ahead from the Milwaukee-based gourmet sandwich shop through their website and mobile apps for iOS and Android.
About Olo
Founded in 2005, Olo is the original and best-in-class provider of online and mobile ordering capabilities for the restaurant industry. More than 150 top restaurant brands rely on Olo's award-winning multi-channel sales platform to seamlessly integrate online and mobile orders with their point-of-sale systems, so operators have freedom of choice in technology and maintain an independent relationship with their customers. Today, more than 5 million customers use Olo to order ahead and get food faster at their favorite restaurants across the U.S. Learn more at http://www.olo.com or olo.tumblr.com.
About Cousins Subs
Cousins Subs® and its franchisees operate more than 130 sub sandwich shops in four states, with bold expansion plans. The first Cousins Subs was established in Milwaukee in 1972 by Bill Specht and his cousin. Their dream was to bring East Coast-style sub sandwiches to Milwaukee – with their own handcrafted touch. They started with their bread, developing a secret recipe with the perfect taste and crunch. That bread is the cornerstone of the Cousins Subs slogan, "Better Bread. Better Subs. Better Day." The original recipe is still closely followed at every Cousins Subs store, where each sandwich is made to order using freshly sliced deli meats, cheeses, and vegetables – and the bread is baked fresh each day. Forty-one years later and still family owned, Cousins Subs employees and franchisees are driven by their mission to "Make it a Better Day" in all they do. In 2013, the brand proudly announced the establishment of the Make it Better Foundation, dedicated to funding causes that address health and wellness, hunger and youth education in the communities that Cousins Subs serves. For more information, visit http://www.cousinssubs.com.