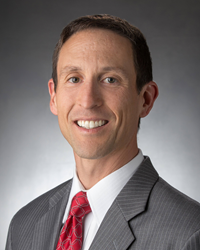 Aguilar, 41, brings a deep understanding of retirement issues and the need for trustworthy advice provided at a fiduciary level of care.
Plymouth, MI (PRWEB) June 25, 2014
For Rick Aguilar, leaving the corporate world to join AMDG Financial was an easy choice. "I have always wanted to work with and help people in meeting their life and financial goals, particularly in retirement," he said. His decision is timely: in July, more than 20,000 retired Detroit pensioners will vote on whether to accept pension cuts as part of the city's proposed "Grand Bargain."
"We approach wealth management from a holistic standpoint," said Aguilar. "When working with families and small businesses, AMDG Financial integrates tax, financial and investment strategies to help clients become good stewards of their family's wealth," he added.
AMDG Financial, founded in 2002 by Wayne Titus, CPA, PFS, AIFA®, focuses on providing clients financial advice and wealth management expertise at a fiduciary standard of care, which means that the firm must place the interests of the client ahead its own, or that of its advisers. A fee-only practice, AMDG Financial accepts compensation directly from its clients, rather than through commissions or payments from third parties. The company's credo is, "From financial wisdom, better stewardship."
"Rick's previous investment management experience at Ford Motor Company and Lear is a tremendous benefit for clients of AMDG Financial," said Titus. "Our goal is to help people create the legacy they want for their families, businesses, and the causes they support. Rick's deep understanding corporate benefit programs makes him an expert at helping clients navigate the myriad of wealth management decisions involved when approaching retirement."
Aguilar holds degrees from the United States Military Academy at West Point, New York, and Duke University in Durham, North Carolina. A former captain in the U.S. Army, he was a decorated officer and graduate from Ranger school, one of the most challenging military leadership programs. Aguilar lives in Canton, Michigan, with his wife and four children.
About AMDG Financial
AMDG Financial (http://www.amdgservices.com) is a fee-only fiduciary registered investment adviser (RIA) in Plymouth, Michigan. The firm manages approximately $75 million in assets for clients. AMDG Financial was one of the first 10 firms, globally, to be certified by the Center for Fiduciary Excellence (http://www.cefex.org) as following global best practices for investment adviser fiduciaries.