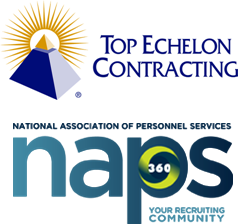 NAPS is the leading educator in the industry, so there is no better place to learn about contract staffing.
HOUSTON (PRWEB) June 26, 2014
Recruiters, especially those who do not yet have a contract staffing component to their business, won't want to miss the National Association of Personnel Services (NAPS) 2014 Conference, to be held September 15 – 17 at the Westin Galleria in Houston, Texas.
Known as the premier educational opportunity for the search, recruiting, and staffing industry, this year's event is expected to attract 450+ attendees. Contract staffing will be a major focus as one of the four concurrent tracks. The track will include a breakout panel discussion on the "Best Practices on Starting a Contract Staffing Business."
The panel includes Debbie Fledderjohann. As President of Top Echelon Contracting (TEC), Inc., Fledderjohann has helped recruiters add contract staffing to their business model for the past 21 years. TEC is a full-service back office that becomes the legal employer of the contractors' recruiters place on long-term contract assignments throughout the United States. As such, the company handles all the legal, financial, and administrative details of a contract placement. Because the company is set up to do business nationwide in the technical, professional, and healthcare arenas, they allow firms to add contract staffing to their business models without any ramp up time or upfront financial investment.
"NAPS is the leading educator in the industry, so there is no better place to learn about contract staffing," Fledderjohann said. "If you are considering adding contract staffing to your business model, you owe it to yourself to attend. Plus you will have the opportunity to hear a wide-range of industry speakers."
Besides contract staffing, the other concurrent tracks at this year's conference, are Direct Hire (Back to Basic), Direct Hire (Masters Series), and Company Leadership. Keynote speakers include Jamey Rootes, President of the Houston Texans, and Fred Haise, Apollo 13 Astronaut and Recipient of the Presidential Medal of Freedom. In addition, there will be a Healthcare Panel Discussion highlighting the Affordable Care Act and implications.
Attendees will also have the opportunity to earn the following certifications: Certified Employee Retention Special (CERS), the Certified Personnel Consultant (CPC), and Certified Temporary Staffing-Specialist (CTS).
As an exhibitor at the conference, TEC has a Promo Code for 10% off all registration levels. To take advantage of this discount, visit http://www.naps360.org to register and enter the Promo Code TopEchelon at checkout.