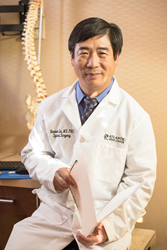 As a patient it is important to know and understand available options when it comes to making a decision on treating back or neck pain.
Elizabeth, New Jersey (PRWEB) June 26, 2014
Dr. Kaixuan Liu, considered a world leader in minimally invasive endoscopic spine surgery, announced today the times and locations of Atlantic Spine Center's upcoming free July Spine Seminars for individuals or loved ones suffering from persistent neck or back pain.
Who is a Candidate for Endoscopic Spine Surgery and What is Discussed During the Seminars?
Among other topics of interest, the discussion will center on what back conditions are most effectively treated with endoscopic spine surgery and how the techniques can be performed on the cervical, thoracic, and lumbar areas of the spine. Dr. Liu will also discuss the benefits of endoscopic advancements over traditional open back surgery and how quickly patients can recover from an endoscopic procedure. During each presentation the doctor encourages attendees to ask questions and take time to meet with him or a staff member after the presentation for as long as time permits.
Open Registration is available and sign up is easy online or by phone for the following dates and locations:
Date: Thursday, July 10, 2014
Doors open at 6 pm, seminar begins at 6:30 pm
1921 Oak Tree Road, Ste. 103
Edison, New Jersey 08820
Phone: (877) 836-7396
Date: Tuesday, July 22, 2014
Doors open at 6 pm, seminar begins at 6:30 pm
475 Prospect Avenue, Suite 110
West Orange, New Jersey 07052
Phone: (877) 836-7396
MRI reviews are offered beginning at 6 p.m. prior to the start of the lecture at 6:30 pm. Guests are encouraged to bring their latest MRI, X-rays, CT scans, nerve diagnostic tests, or reports from previous surgeries if they have them available. Reviews will continue after the presentation for as long as time permits.
Dr. Liu and his staff from the Atlantic Spine Center will ensure every person who is interested in learning more information will have a phone appointment scheduled for ample discussion time.
Seating is limited; please sign up as soon as possible to reserve your seats.
Of Further Note: Kaixuan Liu, M.D., Ph.D., is a renowned endoscopic spine surgeon and President of Atlantic Spine Center in New Jersey (http://www.atlanticspinecenter.com). Dr. Liu is certified by The American Board of Pain Medicine and is a member of The International Society for Advancement of Spine Surgery, The American Society of Interventional Pain Physicians (ASIPP), The American Academy of Pain Medicine (AAPM), The International Intradiscal Therapy Society (IITS), and The American Society of Anesthesiologists (ASA).