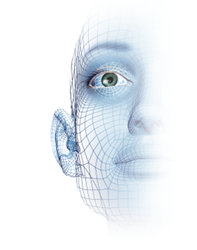 Saint Louis, Missouri (PRWEB) July 02, 2014
2014 Arch Grants Global Startup Competition award recipient Blue Line Security Solutions has marked another achievement last week with their first "true-positive" detection using First Line Facial Recognition software.
Last Wednesday morning (6/25), employees at a company using Blue Line's First Line software received simultaneous email alerts upon facial recognition of a threat from their custom First Line photo database. This quick alert allowed for action to be taken, and truly worked as the "first line" against any unwanted visitors.
The First Line system is tailored to each specific location using a custom database, high definition cameras, installation, and special software. The database is purposefully kept relatively small in order to focus on individuals who are meant to be at a location, or individuals you wish to stop for security reasons. The system allows for quick reactions to security problems and addresses specific privacy concerns.
The particular location this week had photos of individuals added to their database that were true threats to the location, in addition to photos of their employees and regular visitors. When the system recognized a threat, employees were quickly informed and their security measures took over from there.
This real-life positive I.D. is a huge step for Blue Line, and is a moment of validation after months of preliminary testing at several businesses and companies in the St. Louis Regional Area. Lindsey Silva, Blue Line Security Solutions Manager, is proud to show that the software product can speak for itself. "It was great to see this happen and play out. Of course we have had our parents registered, our employees, and ourselves, but to see this happen in a natural setting makes it feel like our first time seeing it work."
Saint Louis based Blue Line Security Solutions, LLC has recently won a non-dilutive $50,000 Grant from the 2014 Arch Grants Global Startup Competition. Arch Grants' mission is to create an entrepreneurial culture and infrastructure to build successful companies in St. Louis. For more information about Arch Grants, go to http://archgrants.org/
Blue Line Security Solutions is a team of former military developers and police professionals applying proven crime prevention methods and new technologies to overcome some of today's most challenging security issues. For more information about Blue Line Security Solutions, go to http://bluelinesecuritysolutions.com/