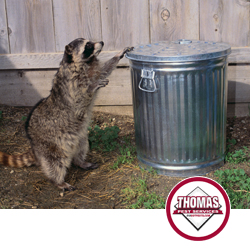 [Wildlife] can also introduce disease and threaten the health and safety of our families.
Albany, NY (PRWEB) June 27, 2014
Spring and early summer are great times of the year with many joys and fun activities. Very few things are more enjoyable than that of watching newborn wildlife; a fawn taking her first wobbly steps, a baby bunny hopping across the lawn, the chirping of newly hatched birds and the chattering of baby squirrels. However, those joys quickly turn to concerns and aggravations as these inquisitive babies begin looking for food and shelter.
Wildlife infestations have always been a safety issue for both humans and pets. Multiple parasites and diseases are spread as a result of the presence of wildlife in and near your home. Thomas Pest Services, a leading pest control company in Albany who also provides wildlife removal services, is well aware of the dangers posed by wildlife in the home. "We are very active in helping homeowners get rid of their wildlife problems not only because of the damages they cause, but because they can also introduce disease and threaten the health and safety of our families," says Sarah Thomas-Clark, Vice President of Thomas Pest Services.
These animal pests are always on the search for food and shelter and a place to build nests to raise their young. This creates a safety threat as well as potential damage to physical property. Skunks, squirrels, raccoons and bats will work their way into your home and attic. They chew holes in walls, chew into wiring and create a fire hazard and spread disease. One of the many and more well-known diseases known to be spread by raccoons is rabies. The bite of an infected raccoon, bat or other animal can spread this disease to you or your pets. It is important that each homeowner take every precaution to protect their home against the issues that accompany wildlife.
Thomas Pest Services recommends a few tips that will help control the infestation of wildlife in the home:
1. Properly identify the wildlife that is invading your property. This helps pest professionals know the correct services needed.
2. Look for any potential points of entry and repair or seal off the openings. Wire mesh can be used to cap off vent pipes.
3. Trim all trees and bushes away from the home. These hanging tree limbs make for easy access for squirrels to get onto the roof of your house and into the attic.
4. Purchase a chimney cap to install as well as closing off all other vents and attic openings.
5. Keep your household trash and garbage in secure containers and remove from the property on a regular basis.
Remember, wildlife can be more than a nuisance and may cause extensive damage to the home with the need for expensive repairs. They are also notorious for spreading of diseases. Make sure your home and property are not knowingly attracting wildlife infestations this summer.
Thomas Pest Services is a family tradition that continues to serve residential and commercial clients with full service humane wildlife solutions.