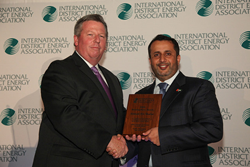 Seattle, Washington (PRWEB) June 26, 2014
The International District Energy Association (IDEA) presented the 2014 Unsung Hero Award at its 105th Annual Conference and Trade Show in Seattle, WA to Ahmad Bin Shafar, CEO of Empower Energy Solutions of Dubai, UAE. Bin Shafar, a proud citizen of United Arab Emirates, has made significant contributions to the district cooling industry over the past decade. With over 600 people in attendance, IDEA President & CEO Rob Thornton was proud to present this prestigious award to Bin Shafar in recognition for his advocacy, commitment to training and innovative business approaches.
Bin Shafar was recognized for his long term commitment to professional training and education, for investing in systems optimization and energy efficiency measures and for his innovative approach to system construction and risk management. A decade ago, district cooling was an evolving, early stage industry in the Middle East. Today, it is the most preferred, energy efficient and environmentally friendly alternative to conventional air conditioning for landmark developments across the Gulf Region.
Bin Shafar has actively lobbied key government agencies to make district cooling the default solution for large new greenfield developments in Dubai. He deployed an innovative business model and helped to pioneer certain development strategies that helped to push the industry forward in Dubai, even during the financial crisis of 2008 and 2009, strengthening the credibility of the industry among banks, financial, and other institutions while weathering the storm of the recession.
As a founding member, he established Empower Energy Solutions in 2004 with just 3 people on staff. Today, with nearly one million tons of cooling capacity under management and approximately 600 employees, IDEA's Unsung Hero has turned Empower from a start-up to one of the world's largest district cooling service providers within a short span of a decade.
He is the first United Arab Emirates National from the region to serve as a Board Member of IDEA, and in this capacity, he helped to organize an IDEA sponsored leadership round table for UAE District Cooling Providers in 2013. He has also agreed to serve as general chair and primary host for the upcoming International District Cooling Conference to be held in Dubai in December 2014.
The International District Energy Association (IDEA) is a nonprofit 501(c) 6 industry trade association founded in 1909 and governed by a 22-member Board of Directors. IDEA represents approximately 1800 members who are district heating and cooling executives, managers, engineers, consultants and equipment suppliers from 26 countries. Association members operate district energy systems owned by utilities, municipalities, hospitals, military bases and airports throughout North America and around the world. Visit http://www.districtenergy.org for more information.