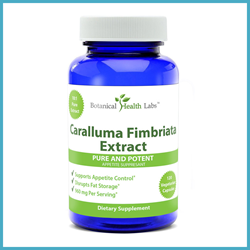 (PRWEB) June 27, 2014
Botanical Health Labs is pleased to announce that their new range of Caralluma Fimbriata natural appetite suppressants is now available to purchase directly from the Amazon.com online store. Here is the listing on Amazon.com: http://www.amazon.com/High-Potency-Caralluma-Fimbriata-Suppressant/dp/B00GU47KJ4/.
The Botanical Health Labs' own brand of high potency natural Caralluma Fimbriata features a 10:1 ratio of whole plant extract in order to deliver the greatest effect to those who consume this weight loss diet supplement. The product is made in the USA under strict manufacturing guidelines, allowing consumers to buy with confidence. Now that the product is available for purchase from Amazon.com, anyone in the country and beyond can easily get their hands on this potent cactus plant extract weight loss supplement.
At the announcement of the launch of this product, the Botanical Health Labs team were on hand to extol the positive effects this supplement can have on the weight loss efforts of anyone who consumes it. There were plenty of before and after photos on display, as well as testimonials from happy dieters who had used this product to great effect.
The history of this natural supplement was also shared with the audience, with it being revealed that Caralluma Fimbriata was first used centuries ago in India, before finally being discovered by the outside world. In those early days, Indian tribesmen were known to chew chunks of this cactus in order to suppress hunger and increase energy levels simultaneously, throughout the day.
While the Botanical Health Labs team were quick to point out that their potent brand of Caralluma Fimbriata has evolved slightly since then, especially in terms of taste and consumption methods, their supplement has retained those desirable appetite suppression and energy enhancement qualities which have made it so popular for so long amongst those in the know.
However, it's not just the creators of this supplement who have good things to say about it. According to one customer who purchased the Botanical Health Labs Caralluma Fimbriata and left a five-star review on Amazon.com, they found that this health supplement is "very effective in handling those late afternoon hunger pangs." The happy customer also reported that they "lost about five lbs in the first two weeks" of using this weight loss supplement. View the customer review at: http://www.amazon.com/review/R21KU6U06VIZEH/.
Other customers who have purchased the Botanical Health Labs Caralluma Fimbriata from Amazon.com revealed that this supplement "really works well" for them, and has given them "a little boost in energy."
When quizzed about their decision to list this supplement on Amazon.com, the CEO of Botanical Health Labs explained that "partnering with Amazon.com, with them fulfilling the orders, made perfect business sense." He went on "while we have our own channels for making this very popular supplement available to the public, the reach and reputation of Amazon cannot be bettered – how many people do you know who don't have an Amazon account?"
As more and more people are now fighting their own personal battles with obesity, natural supplements such as the Botanical Health Labs appetite suppressing Caralluma Fimbriata are sure to grow in popularity. With recommendations from those who have successfully lost weight with assistance from this supplement, it seems likely that this product will be flying off the virtual shelves at Amazon.com for some time to come. To view the product details go to: http://www.amazon.com/gp/product/B00GU47KJ4.
About Botanical Health Labs (TM):Botanical Health Labs (TM) is the manufacturer of High Potency Caralluma Fimbriata, a weight loss supplement that helps people regulate their weight using a natural extract of a Caralluma Fimbriata. Botanical Health Labs (TM) was founded on the concept of providing pure and powerful supplements that are affordable, proven and made in the USA.