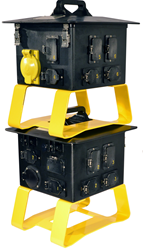 The Terrapin Station™ redesign comes as a result of listening to customer feedback, staying true to our PowerHOUSE™ Pagoda-style design and also served as an opportunity to provide additional features for added convenience
Shelton, Connecticut (PRWEB) June 26, 2014
The PowerHOUSE™ Terrapin Station II™ Series is Lex Products latest generation of portable power distribution boxes to meet stringent UL, NEC and OSHA requirements for indoor/outdoor construction site applications that feature a heavy duty rubber enclosure for enhanced safety and durability.
The Terrapin Station II™ Series meets OHSA standards for open-neutral GFCI protection and circuit overload protection, and is designed to deliver power from electrical panels or portable generators. The box is weather-resistant and ideal for powering a wide range of construction site equipment.
Bob Luther, CEO of Lex Products Corp., said, "The Terrapin Station II™ is the next generation spider-style power distribution unit from Lex Products. This redesign comes as a result of listening to customer feedback, staying true to our PowerHOUSE™ Pagoda-style design and also served as an opportunity to provide additional features for added convenience." He added, "The Terrapin Station II's heavy duty, shock-resistant, rubber enclosure is built to outlast competitive boxes featuring material such as painted steel, which can be damaged or rendered inoperable during rough use or in harsh environments."
Two configurations offer a choice of either GFCI-protected 20 Amp Duplex or Locking Receptacles, and both models feature (1) 30 Amp Locking Receptacle, and (1) 50 Amp, California-style Locking Inlet and (1) California-style Feed Thru Receptacle. Applicable overcurrent protection is provided via thermal magnetic branch-rated circuit breakers.
Enhanced Safety:
Terrapin Station II™ Series portable power distribution boxes are cULus Listed and are TYPE 3R Weather Resistant for safe and reliable use in outdoor environments. Thermal magnetic branch-rated circuit breakers provide overcurrent protection. Weather resistant open-neutral GFCI modules help to prevent unsafe operating conditions and nuisance tripping while LED indicators provide a visual indicator of status. The Terrapin Station II™ Series sturdy aluminum legs are designed to keep electrical components six inches above ground level to meet NEC regulatory compliance.
Unprecedented Durability:
The Terrapin Station II™ Series rugged and weather resistant construction enables the box to withstand rough treatment and harsh environments while delivering years of trouble-free performance. The heavy duty molded rubber enclosure and lid are fully insulated and resistant to shock, impact and corrosion for enhanced safety, and built to outlast comparable painted steel boxes.
The Terrapin Station II™ Series circuit breakers are located under a heavy-duty rubber, waterproof, self-closing lid for added breaker protection. Receptacles and inlets are protected from dirt and moisture intrusion by heavy-duty, spring-loaded covers.
Designed for Convenience:

Lighter in weight than comparable power distribution boxes for easy portability
Compact design for operation in confined spaces and convenient storage
Feed thru feature to place multiple boxes along one feed
Unique leg design allows for nesting of multiple boxes for storage and transport
Molded handle enhances portability while improving stackability of multiple units
Strong Return on Investment:
The Terrapin Station II™'s rugged construction and heavy-duty molded rubber enclosure deliver extended longevity for a meaningful, long-term return on investment.
For more information, visit http://www.lexproducts.com or call 1-800-643-4460.
About Lex Products:
Lex Products Corporation is a leading manufacturer of innovative power distribution and control systems for demanding markets, including entertainment, industrial and the military. Founded in 1989, the company specializes in portable power systems including distribution boxes, cable assemblies, cable protectors and other products, designed to withstand rough use and harsh environments. Lex Products is ISO 9001:2008 certified for all production, operations and support services across its three U.S. facilities.
Headquartered in Shelton, Connecticut, the company also has offices in Sun Valley, California and the United Kingdom. In 2012, Lex Products ranked 77th in the Manufacturing segment on Inc. Magazine's Inc. 5000. For more information, visit http://www.lexproducts.com or call 1-800-643-4460.