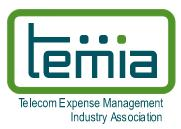 ...Rapid uptake and adoption of mobility as an essential tool in today's 'anywhere – anytime' business environment further supports our need to assist our clients on an international stage.
WestLake Village, CA (PRWEB) June 26, 2014
The Telecom Expense Management Industry Association, TEMIA, representing Solutions Providers in telecommunications management and related areas, is pleased to announce that Webbing has joined TEMIA. Webbing offers travelers instant Internet access and mobile data services in over 120 countries worldwide without roaming charges.
TEMIA members include solutions providers in Telecom Expense Management (TEM), Wireless Expense Management (WEM), Mobile Device Management (MDM), Enterprise Mobility Management (EMM), Managed Mobility Services (MMS), Mobile Security, service management; help desk support and other areas related to telecommunications management. "The addition of Webbing as a new member demonstrates how the organization is expanding its charter from what was originally a narrow focus on TEM," stated Joe Basili, managing director for TEMIA.
Yaniv Elron, VP of Sales for Webbing, said, "In the GSM world, international data roaming rates are an open breach. Webbing aims to close that breach, both with its unique technology and cost effective data plans. The rapid uptake and adoption of mobility as an essential tool in today's 'anywhere – anytime' business environment further supports our need to assist our clients on an international stage." He added, "we look forward to working with TEMIA to showcase the cost savings, operational efficiencies and heightened visibility that we can bring to enterprise customers."
International travelers face bill shock from unpredictable high roaming costs for data. Webbing enables mobile Internet access for up to 10 devices by leveraging a compact, palm-sized mobile hotspot – The Webbing Spot. It connects seamlessly to the cellular network enabling Internet access anywhere there is a cellular network, and then enables up to 10 employee devices, such as smartphones, tablets and laptops, to connect to the internet via WiFi.
"TEMIA is please to expand its membership with new members that can address enterprise challenges for international travelers, and our members benefit from new opportunities to partner with firms that address these needs," added Joe Basili. The association looks forward to additional expansion overseas with recent additions of new members and new signings expected from firms based in Europe, Latin America, Canada, India and Asia.
About TEMIA
TEMIA's ongoing mission is to raise awareness, to improve the quality and value of solutions and to cultivate shared industry knowledge for Telecommunications Management, Telecom Expense Management, TEM, Wireless Expense Management WEM, and Mobile Device Management MDM solutions. TEMIA seeks to do this through the development and promotion of open industry standards, and industry knowledge among solutions providers, business partners, telecom service providers, and enterprise clients. Further, TEMIA members subscribe to a Code of Ethics, which clearly differentiates their level of commitment to their clients.
For more information about TEMIA, visit http://www.temia.org.
About Webbing
Webbing enables enterprise mobility and UC&C for the business traveler by providing an unlimited internet connection for international travelers well below the market price in over 130 destinations; therefore eliminating data roaming charges.
The service is based on the Webbing Spot - a portable cellular router uses 8 data SIM cards to provide an internet connection to any mobile device, worldwide. The SIM and network selection is fully managed in real-time by the Webbing server. Up to 10 devices may be connected to a single router, enabling the user to connect their cellphone, laptop, tablet and more, on the go with a high level of security.
For more information about Webbing, visit http://www.iamwebbing.com.