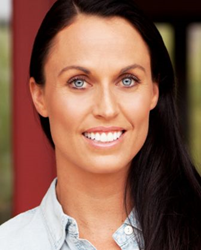 I loved living in a world totally different from my own and even though Spencer may like to do things his own way, he made sure I was always taken care of and talked about Heidi like she was his whole life. - Amanda Beard
Cary, NC (PRWEB) June 26, 2014
Amanda Beard, the 4-time Olympian and 7-time Olympic Medalist, recently appeared in an episode of ABC's captivating TV series Celebrity Wife Swap that ruled the 10 o'clock TV time slot on Tuesday night with over 3.77 million viewers tuning in to catch the latest episode. Amanda swapped lives with MTV's notorious reality TV star Heidi Montag in what was sure to be a drama-filled episode of one of America's favorite primetime TV shows.
As an elite competitive swimmer, Amanda has been all around the world in the past 2 decades and her latest journey transported her from her woodsy, suburban home in Seattle, Washington to the happening streets and bright lights of Los Angeles, California. Taking time out of her busy schedule for a week of lounging and club visits with Spencer was quite the contrary to a normal week for this Olympian who starts her morning at the crack of dawn training for the next Olympic Games in Rio de Janeiro, Brazil.
Aside from her rigorous daily training routine, Amanda has authored a New York Times Best-selling memoir and continues to motivate countless individuals through frequent speaking engagements at corporate events, trade shows and fundraisers.
Now while it may have been tough to schedule around, the experience was well worth it for the swimmer. "Sacha and I had a great time doing Celebrity Wife Swap," commented Amanda. "I loved living in a world totally different from my own and even though Spencer may like to do things his own way, he made sure I was always taken care of and talked about Heidi like she was his whole life. It was a wonderful experience!"
Amanda is part of a trio gold medal moms including former Olympians Dara Torres and Dominique Dawes who are represented exclusively by PMG Sports. PMG works on local, regional, domestic and international opportunities for each of its clients with the goal to maximize each client's exposure through our involvement with an athlete, while creating unique programs focused on developing additional positive public exposure. Aside from her recent appearance on Celebrity Wife Swap, Amanda has continued to be actively involved with her sponsors Aqua Sphere, Mission Athletecare and NuStep while training for the Summer Olympic Games in 2016.
About PMG Sports
As an elite sports marketing agency, PMG's goal is to create a space in the industry that is completely unique in the world of sports marketing through its creativity and innovation. With over 35 exclusive Olympic and celebrity clients, PMG's goal is to provide each client with the same level of professional representation and service. Additionally, PMG is an industry leader in providing corporate consulting services and each client, whether an athlete or a corporation, is treated with an added personal touch. For more information on how to book an Olympian or any other sports speaker for your next event contact evan(at)pmgsports(dot)com or (919)459-5426.