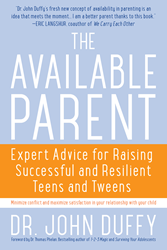 [Dr. Duffy] raises valid points about the benefits of being an available parent and offers valuable insight into the unique psyche of a teenager. — Kirkus Reviews
(PRWEB) June 26, 2014
Viva Editions announced the release of Dr. John Duffy's The Available Parent, 2nd ed., as an audiobook on Audible. Dr. Duffy is a regular on Steve Harvey and a clinical psychologist and life coach with a thriving practice in Chicago.
The Available Parent explores what Dr. Duffy calls "radical optimism." It is a uniquely practical approach to positive parenting that helps break bad habits so you begin to only parent teens and tweens in ways that truly work -- while breathing a bit easier as the sixteenth birthday approaches.
Steve Harvey recently featured Dr. John Duffy's independence plan for adult children, and he will appear on HuffPost Live today on the importance of family vacations.
In addition to clinical work, Duffy also consults with individuals, groups, and corporations. Dr. Duffy's highly satisfied clients include Sears, Allstate, General Electric, Household Financial, Exxon Mobil, Accenture, Bank of America, and Hewitt Associates.
Viva Editions is a line of books that are as fun as they are informational. The intention behind Viva is very serious—these are books that are truly helpful and intended to enhance people's lives.