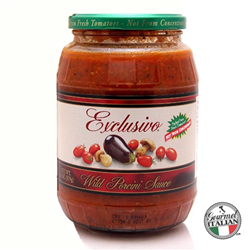 People love the rich flavor of vine-ripened Stanislaus tomatoes.
Youngstown, OH (PRWEB) June 26, 2014
Italian food specialist, Gourmet Italian, is happy to announce the company is offering Exclusivo Wild Porcini Sauce in the new 31 ounce size, available at GourmetItalian.com. Wild Porcini Sauce, also sometimes referred to as Porcini Mushroom Sauce, is made by using Stanislaus tomatoes, mushrooms, red wine vinegar, a variety of fresh herbs and seasonings, and more. Wild Porcini Sauce is heralded as the secret ingredient professional restaurateurs turn to for crafting fine Italian food for their customers.
Exclusivo has a product history as unpredictable as the product name itself. The company originally produced 28 ounce and 108 ounce cans (also known as #10) of Wild Porcini Sauce, and developed a significant fan following of loyal enthusiasts. When the company stopped producing the 28 ounce product in 2011 and offered only the 108 ounce can, the change was enough to cause ripples in the fan community. Then in 2013 the company also ceased production of the 108 ounce size can as well.
Gourmet Italian has offered Wild Porcini Sauce since 2009 and they received strong customer feedback when the product was no longer available.
"We got phone calls," says Gourmet Italian owner, Brandon, with a laugh. "We got a lot of phone calls. Maybe because the product was already hard to find, but people thought Gourmet Italian stopped making the product. We may not produce it, but we are happy to be a near exclusive distributor for this product, and we love to hear people rave about it. And we're happy to say, it's back!"
In fact, Gourmet Italian is one of only a handful of online establishments that currently carry Exclusivo's Wild Porcini Sauce. The company offers the product in individual jars—and as a testament to its popularity—by the case. The item is one of Gourmet Italian's highest selling items, and its fan base is still growing.
Gourmet Italian believes the reason for the product's increasing popularity is the use of quality ingredients. "People love the rich flavor of vine-ripened Stanislaus tomatoes. It doesn't hurt that the product tastes like the rich tomato sauce Italian grandmothers spend hours preparing in the kitchen, and it's perfect on everything from pizzas to pasta."
Wild Porcini Sauce is available for purchase on the Gourmet Italian website.
Wholesale Food Network LLC operates out of Youngstown, Ohio, and has been doing business under the "Gourmet Italian" name since January 2009. For more information on any of their products, please visit the Gourmet Italian food store website.