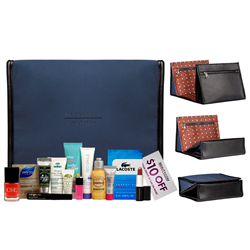 Bellevue, WA and New York City, NY (PRWEB) July 08, 2014
Just in time for summer vacations, Beauty.com, a division of drugstore.com, Inc., introduces the exclusive Wes Gordon Triptych Travel Case as a complimentary gift with purchase. The product-filled travel case is available starting July 8th for customers spending more than $100 at the prestige online beauty retailer. With a chic outer design and zippered compartments for storing cosmetics, the limited edition bag makes for a perfect travel accessory this season. Shoppers can find the case at http://www.Beauty.com/WesGordon.
"This Triptych bag is versatile, sophisticated and clever," says designer Wes Gordon. "I loved taking an inherently feminine bag and playing with masculine design elements and colors." The square case, made of faux-suede and faux-leather paneling, opens out to reveal a burgundy polka-dot interior with two storage sections. Once beauty and travel essentials are zipped up inside, the case folds back up into a neat square, perfect for packing in a carry-on bag or suitcase.
Each Triptych Travel Case comes filled with 13 prestige beauty samples spanning skin care, beauty, personal care, and fragrance. The bag and its contents have an approximate combined retail value of $130.00.
1. Lacoste Essential Sport
2. bareMinerals Marvelous Moxie Lipstick – Speak Your Mind
3. Cargo Picture Perfect Lip Primer
4. Miracle Skin Transformer Vanish Instant Imperfection Corrector
5. Le Couvent des Minimes Gardener's Hand Healer
6. Phyto Secret de Nuit Hydrating Regenerating Night Treatment
7. Jouer Mini Moisturizing Lip Gloss in Peony
8. Go SMILE Teeth Whitening Gel
9. L'Occitane Almond Shower Oil
10. Origins Smarty Plants CC SPF 20 Skin Complexion Corrector, Light-Medium
11. Nuxe Masque Crème Fraiche de Beaute Soothing & Rehydrating Mask
12. Bliss grapefruit and aloe body butter
13. Crabtree & Evelyn Nail Polish (assorted shades)
14. An offer for you from the Beauty.com site
While looking to spend $100 to receive the Triptych Travel Case, customers can browse waterproof make-up, summer skin care and more on the new Beauty.com Summer Checklist page. In the Pool-Proof Color category, shoppers will find waterproof concealer from It Cosmetics, waterproof liquid eyeliner from Stila and more. For an oil-free option to soothe sun-exposed skin, shoppers will find new gel moisturizers from Koh Gen Do and Bliss. With complimentary shipping over $35**, it is also a great time to stock up on SPF from best-selling brands Supergoop!, Colorscience, and Peter Thomas Roth.
Shoppers looking to add some new beauty items to their routine will find Skinny Brush Mascara, Skinny Liquid Eyeliner, Brow Gel, Liquid Metal Eyeliner and more from Eyeko. The brand new Bareminerals Bareskin foundation is also available on Beauty.com in 20 different shades, along with the new Bareminerals Nudes with Attitude set of lip glosses. Other new-to-store items include Gorgeous Cosmetics lipsticks, Stila's Magnificent Metals Foil Finish Eye Shadows, and cheek stain from Tarte.
Beauty fans can look to Beauty.com for seasonal make-up, hair, and skin care inspiration with the Advice & Trends features. On the Guest Editor pages, industry influencers share their must-have products, while Trend Tutorials allow beauty enthusiasts to recreate runway looks at home. Beauty Director-at-Large, Romy Soleimani, shares seasonal inspiration, her new favorite products and more on the Beauty.com blog Beauty Close Up. Other Beauty.com benefits include 5% back on every purchase, the complimentary sampling center, and a shared online shopping cart with Beauty.com's partner site, drugstore.com.**
*The Triptych Travel Case is only available at http://www.Beauty.com with any $100 purchase through September 30, 2014 while supplies last. Offer may be applied only once per household. Complimentary gifts cannot be returned for refund, credit, or exchange. A minimum purchase does not include shipping charges, applicable tax, backordered items, out of stock items, or specially handled products. The gift, including its contents, has an approximate combined retail value of $130. The gift will be added to shopping bag when customers reach the minimum purchase threshold. May not combine with some offers. Void where prohibited by law. Beauty.com may make changes to or terminate this offer at any time. Use of this site shall be deemed as customers' acceptance of Beauty.com's Terms of Use.
**Complimentary standard shipping is available only on purchases of $35 or more, and does not apply to gift cards/certificates, bulk orders, or orders over 20 pounds. With drugstore.com dollars™, customers receive a credit to their account equal to 5% of any eligible purchase. Customers cannot earn or apply drugstore.com dollars™ to gift certificates, gift cards, discounts, complimentary items, past purchase, or non-shipped, undeliverable or returned items. drugstore.com dollars™ cannot be redeemed for cash. These offers are only available on http://www.drugstore.com and http://www.Beauty.com.
About Beauty.com®:
The World of Beauty Online® Beauty.com, Inc. is a leading online destination for prestige beauty products. The web store provides a highly personalized shopping experience and offers more than 350 brands from widely recognized to niche, hard-to-find products.
About drugstore.com™:
For 15 years, drugstore.com has been a leading online provider of health, beauty, and vision products. Shop a great assortment of more than 80,000 items ranging from everyday basics to hard-to-find favorites. With competitive prices, unique categories, and complimentary shipping for orders over $35* all in one convenient location, the drugstore.com web store is truly the uncommon drugstore.
About Wes Gordon:
Wes Gordon's perspective stems from the guiding philosophy that clothes communicate a woman's individuality and can amplify her inner confidence, independence, sophistication, and grace. The creative process begins with an exploration of textiles. With an immense appreciation for the craftsmanship required to produce the finest fabrics, Wes works directly with select mills from around the world to develop materials with the precise desired texture, weight, color, and character. With these select ingredients in hand, the silhouettes begin to take shape with Wes's vision. The resulting collection conveys an inherent ease and enables a woman to integrate the clothes into her everyday life. These concepts are then realized through time-honored couture construction techniques and an uncompromising standard of execution. The collection represents Wes's fresh, youthful perspective of American elegance, a blending of timeless sophistication, and modern sensibility.