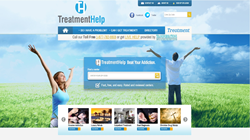 Delray Beach, FL (PRWEB) June 26, 2014
It was not until recently that video game addiction has become recognized as a clinical disorder. Classified under the category of behavior disorders, video game addiction involves excessive time spent on the computer or in front of the TV, hindering social relationships and daily functioning. Individuals addicted to video games function poorly in school or at work, avoid spending time with family and friends to play video games, and suffer various physical and psychological problems.
TreatmentHelp wants to help parents and children recognize the harm in playing video games excessively. TreatmentHelp announces the top causes of video game addiction, spreading awareness of the overall impact of spending too much time playing games.
1) Depression: Individuals who suffer symptoms of depression may often resort to video games as a way to escape the negative feelings. Individuals who struggle in social situations may crave relationships with virtual players or engage in role-playing games online to try and lift their moods. These online relationships may seem more appealing to people who prefer virtual reality to their present situations.
2) Preoccupation: For some individuals, playing one game for an hour a day may not be enough. Individuals who are addicted to video games get sucked into the virtual reality presented before them. Some individuals sit for hours on end playing video games, causing a disruption to day-to-day living. This kind of time spent playing video games can impact basic biological needs such as eating and sleeping, causing eventual health problems to arise.
3) Dependency: Similar to other stimulants, playing video games increases dopamine in the brain. Individuals who want to escape reality play video games to maintain the feeling of euphoria. They become dependent on the game to fulfill the excitement, instead of spending time with family and friends or engaging in hobbies such as playing sports or a musical instrument.
4) Cravings: Like a drug addiction, it is possible to crave playing video games to the point in which it becomes difficult to easily stop. Video games are designed in a way that engages and challenges the player, so that they are not inclined to put down the game so easily. Craving video games is a problem when individuals revolve their lives around the game.
5) Financial Problems: Instead of solving financial problems with the help of an accountant or trying to come up with ways to save money, individuals may resort to playing video games. They may also spend money on video games (either online or a physical game) just to continue playing. Like alcoholics, video game addicts will also spend money towards their addiction jut to continue feeling the high that comes with playing video games, despite any financial issues.
Addiction to video games should not be taken lightly. Individuals or loved ones who are concerned about the effects and detriments of video game addiction should visit http://www.treatmenthelp.com for more information. For information on treatment centers that help individuals with video game addiction, please call TreatmentHelp at 1(877) 782-6608.