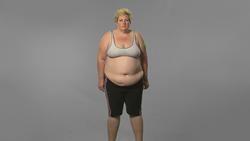 Aurora, Colo. (PRWEB) June 25, 2014
This next episode of "Extreme Weight Loss" Season Four is a very emotional one, focusing on a woman who lost her military husband to suicide, then began eating as a way to deal with her loss.
Featuring a unique, non-competitive approach to weight loss transformations, "Extreme Weight Loss" airs Tuesday, July 1 (8:00-10:00 p.m., ET/PT) on the ABC Television Network.
When Melissa's military husband, Mike, returned from Afghanistan, he seemed to have become a different person. Later diagnosed with Post-Traumatic Stress Disorder (PTSD), he committed suicide in 2009, leaving behind Melissa and their two sons, one of whom has also been diagnosed with PTSD. In the years following Mike's death, Melissa turned to food for comfort, eventually reaching 301 pounds.
Last year, Melissa wrote to show trainer Chris Powell's wife, Heidi Powell (also a trainer and transformation specialist), asking for help. This episode documents Melissa's yearlong physical and emotional journey.
New in Season Four, each "Extreme Weight Loss" participant spends the first 90 days of his or her weight loss journey at the University of Colorado's Anschutz Health and Wellness Center (AHWC) in Aurora, Colorado. Holly Wyatt, MD, medical director for the AHWC, also serves as medical director for the television program and is seen on the show each week helping participants safely lose up to half of their body weight.
The University of Colorado's Anschutz Health and Wellness Center offers some of the country's most advanced research and science-based expertise, focusing on a comprehensive weight loss and weight management approach, including fitness, nutrition and wellness services. Learn more at http://www.anschutzwellness.com. Follow us on Facebook and Twitter.
Extreme Weight Loss is produced for ABC by Eyeworks USA. The series is executive-produced by JD Roth, Todd A. Nelson, Matt Assmus and Brant Pinvidic.
###