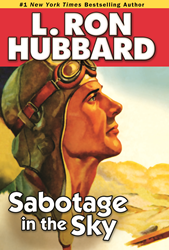 HOLLYWOOD, CA (PRWEB) June 25, 2014
With Independence Day just around the corner, Galaxy Press announced the next in its line of patriotic titles appropriate for the upcoming 4th of July holiday—Sabotage in the Sky, by L. Ron Hubbard.
At the time of this story, England was at war with Germany. While U.S. President Franklin Delano Roosevelt was decidedly anti-Hitler, many in the U.S considered this to be a European war, one that America should stay out of. And America did stay out of the conflict and did not enter World War II until December 7, 1941 with the attack on Pearl Harbor.
As an established popular adventure writer, Hubbard championed the cause for a strong American air presence and his fiction writings provided a vehicle to present the case.
The story was written in April 1940 and published in August that year. It is of historical interest to note that the German intelligence service, the Abwehr, had a year earlier started to send agents to, and recruit agents in, the United States. One of the primary targets was to gather intelligence about American military aircraft designs and manufacturing. Thus, Hubbard's "fiction" was closer to the truth than most people imagined.
And so "Sabotage in the Sky" is the story about two US companies competing for a contract to develop new fighter planes that will surpass the speed and maneuverability of Germany's latest Messerschmitt model. However two ruthless German saboteurs are willing to do just about anything to see that neither of the fighters reaches the British.
Shortly after seeing the story published, Hubbard was commissioned as a Lieutenant in the U.S. Navy in June 1941.
Sabotage in the Sky is available wherever books are sold in print and eBook format, as well as unabridged multi-cast audio CD and digital download.
For more information on Sabotage in the Sky and the Stories from the Golden Age, go to http://www.galaxypress.com.