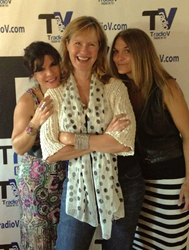 We are breeding women into believing it is your obligation to be sexy and it is your fault for what it gets you
Los Angeles, CA (PRWEB) June 26, 2014
TradioV's popular radio in TV series the "Artful Undress" took a break from focusing on the art world with a show dedicated to raising awareness about violence against women. Los Angeles portrait photographer, Linnea Lenkus, was asked back to weigh in on the discussion of what is causing the numbers of assault crimes to rise in the US along with Kevin Morris and show's hosts Kira and Polina Hyrn.
Host Kira shared a startling statistic that every 2 minutes a person is sexually assaulted in America. 60% of assaults are not reported to the police and 97% of rapists will not spend a night in jail. Morris, who stated that he had friends and even family members that have been victims of assault crimes, expressed that he felt that the number of assaults that are not being reported is "the fault of our society for making women feel ashamed when it is absolutely not their fault."
The group exchanged their views on the idea of the Barbie doll complex and that women are still being blamed for the violence against them because of what they are wearing. Lenkus remarked that "if you want to dress a certain way you should be able to do so without someone attacking you. It's about personal space and respect."
The portrait photographer shared that she believes it is the insecurities that our society places on women that is adding to the violence against them. "Today's media is still objectifying women and constantly telling them they are less than unless they change or dress a certain way," Lenkus said. Kira silenced the room with the her thought provoking statement of "We are breeding women into believing it is your obligation to be sexy and it is your fault for what it gets you." The host shared an image that gained a lot of attention on social media and launched the idea of this particular segment which showed a nude woman holding a sign reading "We will not change the way we dress because it's more convenient for your lack of self control. Blame rapists not victims."
The show featured several of Lenkus fine art nude photography as it circled its way back to tie in the underlying theme of the "Artful Undress" which is to examine nudity within the arts and embrace that the body is to be celebrated and not misjudged. Host Kira, a Laguna Beach sculpture artist, expresses this belief with her classical bronze sculptures of the female body and it is because of phenomenal artists such as her and Linnea Lenkus that nude art is being represented in a tasteful and sophisticated way.
To view this episode of the "Artful Undress" visit: http://tradiov.com/la/videos/artful-undress-with-lennea-lenkus-and-kevin-6-21-14/
About Linnea Lenkus
Los Angeles photographer, Linnea Lenkus, specializes in Maternity, Children, Family and Celebrity photography as well as Fine Art Nude photography. Linnea is a highly experienced, internationally published, professional photographer with worldwide commercial success. In a photography session with Linnea, clients receive the benefit of her artistic eye and her technical mastery honed over decades of photography experience. Linnea Lenkus is the owner of two fine art portrait studios located in Pasadena and Long Beach California.