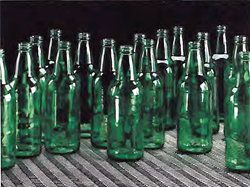 We are confident our global network and glass industry experience ensures our guarantee to ship when promised or there's no charge," said Tracy Tyler, Cambridge President & CEO
Cambridge, Maryland (PRWEB) June 30, 2014
Cambridge Engineered Solutions, the world's largest manufacturer of metal conveyor belts for industrial and food processing, today announced its "No Broken Glass: No Broken Promises" campaign. Targeting the glass manufacturing industry that traditionally halts production globally twice a year to replace worn conveyor belts used in lehr chambers, Cambridge guarantees to ship metal mats (belts) to customers anywhere in the world when promised or provide the product for free. No Broken Glass/Promises runs from July 1 through December 31, 2014.
"We learned that many glass manufacturers who look to replace lehr conveyor belts twice a year often can't get the belt they need when they need it," said Tracy Tyler, Cambridge President and CEO. "We are confident that our global service network and deep experience making specialty conveyor belts for glass annealing ensures that we can deliver on our guarantee to ship when we promise or there's no charge. Faster shipping times lead to higher productivity."
The No Broken Glass campaign was created after Ardagh Glass (Irvine, UK), a leading manufacturer of containers for the beverage industry, learned that Cambridge could deliver replacement conveyor belts faster than their local supplier. Cambridge's ability to replace Ardagh's mats more quickly than their previous vendor demonstrated the production value of faster delivery times and reduced glass breakage.
"With more than 20 years of proven success, our DiaCrimp® is the preferred belt of annealing systems because of its ability to prevent lateral shifting and belt vibrations," said Melissa Lewis, Cambridge International Business Development Sales Manager. "DiaCrimp® significantly reduces product breakage and down time."
Cambridge is harnessing its growing global network to guarantee the fastest international shipping times. The company has three manufacturing facilities and a network of agents in more than 30 countries spanning Latin America, Asia, Europe, and the Mid-East, including some with warehouses and products in China and Southeast Asia.
According to Nicole Evans, Cambridge Global Brand Manager, Cambridge's "guaranteed or it's free" campaign demonstrates the company's commitment to customer productivity. "In solving one customer's request for faster shipping, we learned this was a problem faced by manufacturers the world over and mobilized our team to address that need during seasonal belt replacement."
To learn about the guaranteed shipping date or Cambridge Engineered Solutions' line of products for glass annealing, visit http://www.Cambridge-es.com.
About Cambridge Engineered Solutions:
A division of Cambridge International, CES, is the world's largest metal conveyor belt manufacturer and a global leader in filtration screens. For more than a century, Cambridge has developed dynamic solutions, revolutionizing industry automation and plant operations. With more than 15 exclusive product lines and over 50 patents, our team of dedicated engineers and experts continually devise new methods to make lines run smoother, faster, and handle more product weight. For more information: http://www.cambridge-es.com or email sales(at)cambridge-es(dot)com.
Note: In glass manufacturing, the annealing process – critical to producing a durable product – is conducted in temperature-controlled kilns known as lehr chambers. Designed to slowly cool the glass and reduce the thermal stresses caused by cooling, conveyors with flat mesh belts transport the product from kilns in temperature ranges of 1900 to 500 degrees.