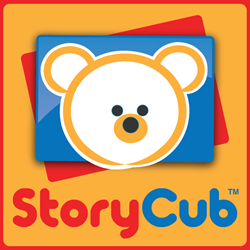 StoryCub brings the excitement of classroom story-time, and makes it available anywhere you are.
Minneapolis, MN (PRWEB) July 10, 2014
After going #1 in iTunes and viewed in 200+ countries, StoryCub, the creator of children's video picture books for digital, announces a new option to compliment the already crowd-pleasing, free "Story of the Day".
StoryCub "Plus" truly makes "Story Time, Anytime", and features on-demand, 24/7 streaming from a large library of children's book titles. Users can either browse the collection and select individual stories to watch or enjoy non-stop story-time with "StoryCub TV", included with a Plus membership. StoryCub Plus is only $3.99 per month and comes with a 30-day free trial.
StoryCub first started on iTunes and parents responded in droves as it charted Top 5 numerous times, beating popular titles from the likes of Sesame Street, Nickelodeon, Nick Jr. and Disney. The StoryCub version of the best-selling children's title "All About Poop" went all the way to #1.
The company's Dave Swerdlick notes that it takes more than great picture books to become a popular entity. "We're finding our talent plays a major role in driving views. Without real on-screen storytellers, you simply can't deliver a real story-time experience."
Each children's picture book goes through a specific production process, meant to best engage and connect with a child.
As a place that supports early childhood education, each video picture book includes a direct message to parents, encouraging them to read with their kids, and has become a destination to find out what books their child is interested in reading.
StoryCub brings the excitement of classroom story time and makes it available anywhere you are.
In the classroom, when a teacher lets kindergarten students know that it's story time, they rush over to get the best spot on the floor. Now, the best spot is right in front you, via iPad and iPhone, Android, or the Storycub.com website.