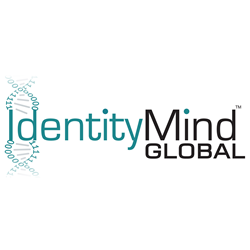 With a priority on customer input, and our in-depth understanding of the industry, we're continuing to improve upon our already world-class platform."
Palo Alto, CA (PRWEB) June 26, 2014
IdentityMind Global™ is proud to announce Version 1.16 of its flagship Anti-Fraud and Risk Management Platform. The latest version enhances the platform's anti-money laundering (AML) and anti-fraud capabilities, with improved features for transaction monitoring, Know Your Customer (KYC), and automated analysis.
"Innovation never stops," said Garrett Gafke, IdentityMind Global CEO and President. "We have worked hand in glove with customers to build the tools they need to protect and grow their businesses. With a priority on customer input, and our in-depth understanding of the industry, we're continuing to improve upon our already world-class platform."
The new version of the platform includes features and improvements in the following areas:
1. Transaction monitoring – Multiple alerts associated with a user are now correlated into a single event to simplify analysis and action. This roll-up greatly benefits financial crimes investigators by reducing the time and effort required to discern what needs to be investigated, and whether to file a suspicious activity report (SAR).
2. KYC – Identity Verification for low data applications– taking advantage of the phone number:
a. Telephone number matching. This service enables merchants to review and make decisions based on the public data associated with an individual's phone number.
b. Telephone number display for consumer and merchant KYC. This service provides heightened visibility when an applicant's phone number doesn't match listed public records.
3. Anti-Fraud – Big Data analysis on large amounts of legacy data. The ability to bulk import large amounts of historical data jumpstarts anti-fraud capabilities by enabling analysis of past transactions, black lists, white lists, and other relevant information. The expansion of the "seeding" capability enables the system to provide more accurate anti-fraud results, faster.
This version of the platform is immediately available to clients worldwide. For more information about the features in this release, or the overall IdentityMind Global platform, please contact: evangelist(at)identitymind(dot)com or sales(at)identitymind(dot)com.
About IdentityMind Global™:
IdentityMind Global™ offers an identity based platform for safer e-commerce. Our on-demand platform provides payments, risk management, anti-fraud, and anti-money laundering services for online merchants, acquiring banks, payment processors, gateways, payment service providers (PSP/ISO/MSP, IPSP), digital currency exchanges, and financial institutions (banks, money service businesses (MSBs), money transmitters).
Using proprietary eDNA™ technology and an ecosystem of third party data providers, our platform builds sophisticated reputations used to evaluate real time risk across the payments and e-commerce system.
© 2014 IdentityMind Global. All rights reserved. IdentityMind, IdentityMind Platform, IdentityMind eDNA, IDMPay and the IdentityMind logo are trademarks or registered trademarks of IdentityMind Global, Inc. in the United States and other countries. All other brand, service or product names are trademarks or registered trademarks of their respective companies or owners.
IdentityMind Global™ is privately held. For more information please refer to our website at http://www.identitymindglobal.com or reach us at info(at)identitymind(dot)com.