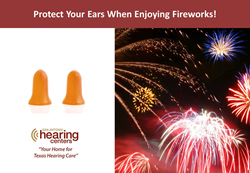 San Antonio, TX (PRWEB) June 30, 2014
As your family gets ready to attend fireworks later this week on July 4th, San Antonio Hearing Centers reminds everyone that it only takes a few basic actions to prevent long-term hearing problems. All those 'rockets bursting in air' can generate sounds in the range of 120-140 decibels. At these noise levels, the safe exposure time is zero. This means that noise-induced hearing damage will occur without the use of hearing protection. The decibel levels experienced by each individual attending a fireworks show vary as a function of distance and age.
Children experience fireworks as louder than adults. Infants experience them the loudest of all. This is because they have narrower ear canals. For this reason, infants and children should wear ear protection when watching fireworks (even at distances that adults judge to be safe for themselves). To keep ears safe on the 4th and prevent short-term and long-term hearing damage, follow these simple tips.

Sit at least 500 feet from where the fireworks are launched. Fireworks noise for spectators 800 feet away ranges from 88 to 126 dB. But from 10 feet away, it's 155 dB-louder than a military jet takeoff! If you have to shout to be heard by someone standing next to you, then you are too close.
Bring earplugs for every family member. You can find them at any drug stores or sporting goods stores for just for a few dollars or less. (For children under 7 or 8, these earplugs may be too big, so consider using child-size earmuffs. Ear protection must fit properly in order to provide protection.)
If you experience pain, ringing or buzzing in your ears, move farther away.
About Debby Taylor:
Debby Taylor is a nationally Board Certified in Hearing Instrument Sciences (BC-HIS) and has advanced training on all major hearing aid circuits. She is licensed in the state of Texas, a member of the Texas Hearing Aid Association and a member of the International Hearing Society. Taylor enjoys hosting community seminars and lectures for consumers and providing complimentary hearing and balance screenings in assisted-living homes and at health fairs.
About San Antonio Hearing Centers:
San Antonio Hearing Centers was established to provide patients the best possible hearing care based on their individual needs. The company provides a full array of services related to prevention, evaluation, and rehabilitation of hearing impairment including hearing aids. With respect and compassion, San Antonio Hearing Centers will actively listen to how hearing loss has affected the quality of each new patient's life. The company is committed to removing the barriers between the client and the professional to collaboratively work toward better hearing and understanding. San Antonio Hearing Centers has 5 locations and 6 Hearing Instrument Specialists to serve you—four locations throughout San Antonio and one in New Braunfels.
Contact:
Debby Taylor
http://www.sahearingcenters.com
San Antonio Hearing Centers
8003 Broadway St
San Antonio, TX 78209
(210) 428-6900
San Antonio Hearing Centers
12413 Judson Rd, Ste 200
San Antonio, TX 78233
(210) 485-1996
San Antonio Hearing Centers
510 Med Court, Ste 203
San Antonio, TX 78258
(210) 390-0899
San Antonio Hearing Centers
8600 Wurzbach Road, Suite 500
San Antonio, TX 78240
(210) 390-0839
San Antonio Hearing Centers
1551 N Walnut Ave, Ste 14
New Braunfels, TX 78130
(830) 387-2389