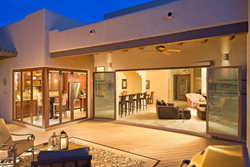 San Francisco (PRWEB) June 26, 2014
NanaWall Systems will be exhibiting at the 2014 American Institute of Architects (AIA) Convention in Chicago June 26h through the 28th. The NanaWall System's booth (#2231) will feature its high-performance opening glass wall systems engineered to accommodate almost any architectural application.
As the leading industry innovator in opening glass wall systems for more than 25 years, NanaWall Systems revolutionizes the category once again with the introduction of:

FoldFlat, a new product breakthrough that allows folding glass door panels to fold and then pivot all the way back to stack out of and parallel to the opening.
NanaWellness System, an Internet-of-Things solution for managing indoor air quality empowering the residential owner of a NanaWall system to know precisely when it's time to open a NanaWall and flush the interior with fresh air.
NanaScreen ONE, a non-pleated screening option with minimal verticals housed in a single cartridge riding on a single track.
Frameless Glass Walls, an all glass product line consisting of single track sliding, folding, center pivot folding, and sliding pivot systems, allows for maximum transparency, natural daylighting, and a clean, contemporary appearance.
"Rooted in innovation and with an ever-expanding product line, we continue to improve our breadth of offerings for architects and designers," said Ebrahim Nana, CEO of NanaWall Systems. "With our focus on continuing innovation, NanaWall Systems offers countless style options, unsurpassed durability and superior performance."
The Washington, D.C.-based American Institute of Architects Association holds a three-day conference in its continued efforts to support licensed architects and emerging design professionals interested in the building industry. Nearly 800 exhibitors will showcase the most innovative products, materials and technologies requested by the architectural community. This year the conference will feature eight specialty pavilions that highlight the latest materials, technologies and solutions that solve building code and user demands changes.
The AIA Convention 2014 will take place at McCormick Place in Chicago.
ABOUT NanaWall Systems
With 25 years of experience and more than a million opening glass panels installed worldwide, NanaWall Systems is the industry leader, trusted by architects, design professionals and homeowners. Providing precision engineered opening glass wall systems, the NanaWall product line offers countless style options, unsurpassed durability and superior performance—all based on a foundation of rigorous testing, research and innovation.
NanaWall Systems is located in the San Francisco Bay Area with 22 showroom and design studio locations across North America. NanaWall Systems is the exclusive North American partner of Solarlux Germany, the world leader in operable glass wall technology. For more information, visit nanawall.com or call 800-873-5673.