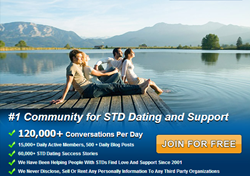 Los Angeles California (PRWEB) June 28, 2014
Every day, more and more people are diagnosed with HIV all around the world. Some of them manage to find their way through the infection, they learn to cope with their situation, and they live normal lives. Many also find partners to date or even to share the rest of their lives with on PositiveSingles.com. A hot debate has recently taken place where people who are HIV-positive were asked whether, when they were diagnosed, they would've appreciated having an HIV mentor or someone who could have taught them how to live with their infection.
87.50% of the members who took part in the debate stated that it would have helped a lot to have the opportunity to talk with someone who knows what living with HIV is like. They stated, if the mentor was also HIV-positive, they would have known how to deal with the fear and confusion that kicks in as soon as the diagnosis is made, making the initial process and the psychological impact of their infection easier.
The other 12.50% of the members stated that it is hard to know if a mentor would have helped, because being forced to face their diagnosis can make the situation more difficult to cope with. PositiveSingles.com found that many go through denial when diagnosed and being forced to deal with the truth so early can elicit set-backs in the healing process.
"That is why a safe community comprised of people who are living with the same infection or who are also dealing with the stigma associated with all sexually transmitted infections is integral to the healing process," stated Positive Singles' Spokesperson, Jenelle Marie. "It allows the individual to approach their diagnosis at their own pace, to reach out for support from others in similar situations when needed, and to have sensitive questions answered by empathetic experts."
About PositiveSingles.com
PositiveSingles.com is known as the world's leading online dating site for those who are living with a sexually transmitted diseases. Not only does it have a huge user-base, but it is also careful to protect their user's anonymity by providing comprehensive privacy settings.
Media Contact:
Jenelle Marie
mediapress(at)successfulmatch(dot)com
Spokesperson for PositiveSingles.com